Faith and Family Reviews received the following product in exchange for writing a review. While we consider it a privilege to receive free products to review, our reviews are our honest opinion and thoughts of the product.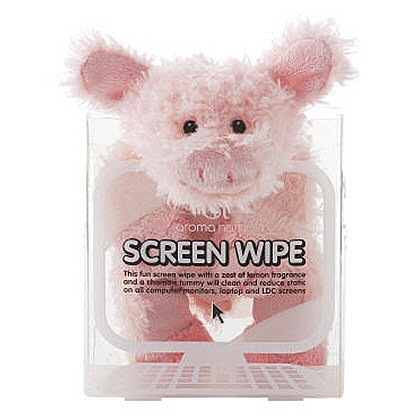 About Aromatherapy
Aromatherapy has been used for healing since the first century. In 1937, the word "aromatherapy" first appeared in print in a French book on the subject: Aromatherapie: Les Huiles Essentielles, Hormones Vegetales, by a chemist named Rene-Maurice Gattefosse.
Used primarily to alter mood or cognitive function, aromatherapy is known to have positive therapeutic effects on adults and children alike. Enhanced relaxation is one of the most popular and effective uses of applied aromatherapy. The basic mechanism is the influence of aroma on the brain through the olfactory system.
Source: US National Library of Medicine and How Stuff Works
About Aroma Home Screen Wipe
These fun animal Screen Wipes have a chamois tummy and will clean and help reduce static on all computer monitors, laptops, TV/LCD screens and even car windscreens! They comes with a little zest of fragrance.
Available in sixteen fun animal designs these are an ideal gift for the person who has everything. The designs are: Pig, Lion, Cow, Bunny, Duck, Poodle, Monkey, Gorilla, Giraffe, Elephant, Brown Horse, Black and White Horse, Tiger, Schnauzer, Cat, and Westie. You may buy them here for $11.99 each.
Our Review
Our family has been using aromatherapy via essential oils for the last couple of years and have seen the positive affects they have on our family. They do indeed soothe and relax. We also appreciate their beneficial medicinal properties as well. So when the Aroma Home Screen Wipes came across our inbox when we were doing our Back to School Product Guide, we were interested in learning more about them. We were sent the pig screen wipe to review. We all thought it was cute, and many of the children asked if they could have it for a stuffed animal!

Personally, I thought this screen wipe was very sweet and cute. The pig worked well on our computers and my daughter liked it for her note/net book. I loved the smell of the screen wipe – a zest of lemon fragrance – but found that the fragrance isn't long lasting. That didn't affect how it cleaned our computer screens though. It cleaned the computers very well of dust particles and did help to remove some static. But if you happen to have little hands that get a sticky spot on your screen on occasion the screen wipe does not work so well for those spots that require a little extra rubbing.
The screen wipe requires sponge cleaning only, so I am still not sure how well that will work over the long term. Therefore, the screen wipe may need to be replaced eventually once piggy's tummy is pretty dirty and is found to no longer clean screens as well as it once did. That's just my opinion though, just having the screen wipe for a month.
My younger daughter just came in and saw Aroma Home's website pulled up and said, "Oh, I want those for stuffed animals! (the screen wipes!)" However, these cute screen wipes are not toys.
To view the whole selection of Aroma Home's screen wipes, please visit http://www.aromahome.com/gb/screen_wipes.asp
Share and Enjoy