Faith and Family Reviews received the following product in exchange for writing a review. While we consider it a privilege to receive free products to review, our reviews are our honest opinion and thoughts of the product.
Baby GoGo:
This wonderful gift set also comes with an adorable story book following Baby GoGo's experience coming home from the hospital, from meeting the family to having a bottle, and earning a nickname. Dressed to mirror a modern day baby, children will instantly recognize and bond with this toy. Whether the child is getting ready for a new sibling or just loves baby dolls, Baby GoGo™ is a valuable tool in teaching children how to nurture, a vital life-long skill.
* Ages 3 and up
* Includes 13-inch baby doll, pajama outfit, blankie and Baby GoGo™ Goes Home storybook.
* MSRP $39.99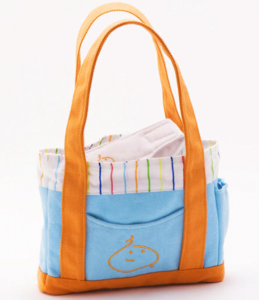 Diaper Bag:
When Baby GoGo™ is on the go, children will be right there with everything baby might need. Our 100% cotton canvas diaper bag is just the right size for children to carry. Children love to imitate their parents and this diaper bag is the perfect tool. The bag includes a cotton diaper and has plenty of room for children to add their own essentials.
* Ages 3 and up
* Includes diaper bag and diaper
* MSRP $24.99
About Little Sib, LLC
Little Sib provides children with toys that nurture and inspire them to be healthy, loving men and women through imaginative play. The company's first product , Baby GoGoTM, reinvents the classic baby doll. It's fun, colorful, safe, environmentally friendly and the answer to the outdated, traditional baby doll that is limited in its versatility for children of all races and genders. Visit the web site at www.babygogodoll.com.
Our Review
In some ways I feel sad about all the gender neutral products that are coming out. I miss seeing the frilly girly products and the products that scream "For Boys!" On the other hand, a product like Baby GoGo seems like the perfect gift for boys and girls since both need to be taught to be nurturing and loving to their siblings and other little friends.
We were sent the Baby GoGo and the Baby GoGo Diaper Bag Set to review. My younger daughter adores this doll! Sometimes I think she likes it better than her Madeline doll but I guess it depends upon the day. Now that our 2-year-old son has a little brother he can be seen mimicking the happenings of our household in his play with Baby Go Go and his sister's Madeline doll. But I have to admit that my daughter has claimed Baby GoGo for her own, but can be persuaded to let her little brother play with it too. I think that both of them enjoy holding the real deal though. Baby GoGo is much lighter than our infant son so it doesn't scare the rest of the family if little hands shift quickly while holding Baby GoGo!
Baby GoGo is well made and has already held up through at least one trip through the laundry cycle due to an accident. Baby GoGo's clothing is easy for preschoolers to put on, although the hat did give our daughter a little trouble since it seems to pop off. Baby GoGo's blanket is very much like our infant son's new baby blanket making it even more authentic for our younger children.
The diaper bag is also well made. While the diaper bag and accessories are great and are similar to mom's and dad's, they tend to get misplaced or lost easily. Ever notice that some children would rather just undress the dolls and leave the clothes lying around the house? My little ones are still learning how to pick up and put things away in their proper place, so it's mom (me!) that needs to be patient in the process!
Baby GoGo products are cute, affordable (for a quality made itemsl) and appealing to both boys and girls.
Available from local toy specialty stores and online at www.babygogodoll.com.
Share and Enjoy