Faith and Family Reviews received the following product in exchange for writing a review. While we consider it a privilege to receive free products to review, our reviews are our honest opinion and thoughts of the product.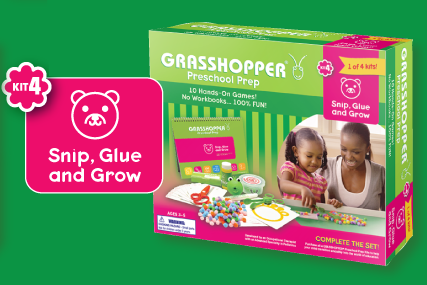 School has started and so has the back-to-school routine. But what about our preschoolers? What are we doing to prepare them for school? They are often interested in anything "school" related when they know older children who go to school. Yet so often kids get tired of workbooks and handwriting. Grasshopper Kits are a perfect activity for parents and preschool teachers to use with their preschoolers, not to mention FUN!
GRASSHOPPER® Preschool Prep Kits are designed to get kids ready for school all through play: no workbooks… no pencils… 100% fun!
According to The American Academy of Pediatrics, the average 3 year old is spending 3-4 hours with electronics such as television and video games each day.
The current recommendation states that parents need to introduce more active, goal-directed play into their children's routine. GRASSHOPPER® Preschool Prep Kits are the answer. Children play games while achieving functional success. All GRASSHOPPER® kits are packed with exclusive materials and games to help create a smooth transition into the world
of education.
GRASSHOPPER® games are clearly laid out in full color guide books with straight-forward instructions and supporting illustrations. All of the materials fit easily into the custom GRASSHOPPER® no-spill carrying case which is designed with organized compartments, an easy snap lid, and a built in easel.
The games all have a 'back to basics' slant, with a clever edge so that kids feel like they are playing while they are building their foundation skills for school. Help your child get ready for school the GRASSHOPPER® way!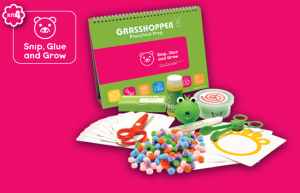 Our Review
There are four Grasshopper kits altogether, the ABC and Shapes is a combined kit ($49.95), Getting Hands Ready ($29.95), and Snip Glue and Grow (29.95), which is the one we received. I was busy with the Back To School Guide the day that we where going to test this kit, so I told two of my daughters to take the younger children down and use the kit with them. I was surprised that it kept the children busy for at least a hour and a half. This kit is filled with age appropriate activities for preschool age children. Although my 1st and 2nd grade boys found it fun too. The great thing about this kit is that we have used it a few more times since then. Therefore the kit is not just a one time use as it can be used multiple times over until all the materials are gone.
From the ten hands-on games and activities the children participated in from the kit include: gluing little colored pom poms to cards with different characters on them, being creative with a bit of play dough, practicing cutting with scissors and practice cards, blowing bubbles with the bubbles, making paper chains. Everything needed isincluded in the kit. No extra trips to the store or multiple stores, definitely a mom pleaser with that feature!

The Snip, Glue and Grow Grasshopper Kit ($29.95) gets a thumbs up from us. I hope to order the ABC and Shape kit for my little ones, so I will let you know how those are in the future.
For more information visit: http://www.grasshopperkits.com/allproducts.html

Share and Enjoy