I received the following product in exchange for writing a review. While I consider it a privilege to receive free products to review, my review is my honest opinion and thoughts of this product.
About V-Moda Crossfade LP Headphones
High-Definition Sound
Featuring patent pending 50mm Dual-Diaphragm High-Definition Drivers, the Crossfade LP delivers the sound of multiple drivers with the efficiency of a single smaller driver. The result is deep vibrant bass, juicy mid-range, and crystal clarity on today's portable devices without the need for any batteries. The driver's diaphragm is constructed of a harder inner ring providing an extended high range and a softer outer ring for deep lows, resulting in an unprecedented sound. Supple memory foam ear cushions isolate noise and immerse you into your own world of sound.
Fashion Forward Design
With the Crossfade LP, music lovers experience a sophisticated headphone with a true fashion-forward look. Created with a unique metal "V" design and available in White Pearl, Phantom Chrome and Gunmetal Black, the Crossfade LP gives music enthusiasts a sophisticated headphone with a fashion-forward look. For people on the move, the Crossfade LP is equipped with a detachable cable featuring a three-button remote control and high-fidelity microphone to easily change volume and answer or end phone calls.
Ultimate Ergonomic Comfort
Your headphones are supposed to be comfortable. With the Crossfade LP, you get an incredibly lightweight headphone that you can wear for hours. Using a revolutionary metal "V" design and supple air-cushion memory foam, the Crossfade LP weighs only 280 grams and offers an ergonomic comfortable fit. Relentless research went into the precise shape and materials of the headband and ear cushions, resulting in a tailored, fashionable fit without unsightly gaps and minimal pressure on the head and ears.
Universal Compatibility
Now, your calls and your music are in stereo. Featuring a three-button remote and discrete high-fidelity microphone, the remote/mic cable gives you complete control of your calls and your music. You can adjust the volume, control the playback of your music and video, or record voice memos and answer calls from your iPhone 3GS and more. Plus, you get a long (69") audio cable with ¼" adapter so you can listen to music from your iPod, iPhone or professional stereo equipment. Want to use the Crossfade LP with your Mac? You can, it's compatible with the latest Mac products, including the iMac, Mac Pro, MacBook or MacBook Pro and can be used for iChat, Skype, VoIP, and other audio recording applications.
Built To Last
We're passionate about sound and providing you a durable product. Four years of testing the Crossfade LP on tour and in everyday life situations resulted in a tank-like steel frame, flexible memory headband, and detachable Kevlar®-reinforced cables to ensure unprecedented durability. Our commitment to quality stays with you. Each Crossfade LP is backed by an unrivaled one-year premier warranty. If you're rough on your headphones, don't worry. We've designed an incredible replacement program just for you. With the exclusive V-MODA Replay Replacement Program, you get a 50% off lifetime replacement guarantee. (Editor's Note: You can't beat that!)
Price: $249.99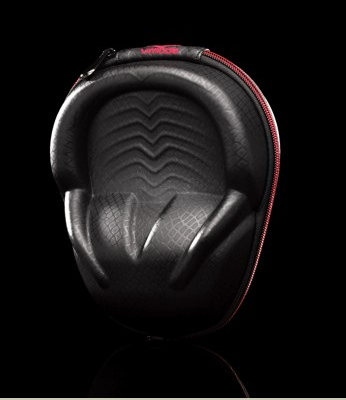 Our Review
The V-Moda Crossfade LP Headphones are very, very nice! I honestly don't have anything negative to say about them. We received the Phantom Chrome colored ones. They are extremely comfy, except when I have my earrings in as the stud posts push into my head due to the headphones fitting so snuggly. They also have great sound. I love that I can listen to a show or music and it pretty much blocks out the rest of the noise in the house! The headset we received includes a nice carrying case and we kept the box, as it was well packaged and it gives extra protection during the times they are not being used. I think these are the most luxurious over the ears headset we've owned. They even have 24K gold-plated plugs! Although, my husband did mention that he use to own the best headphones available…years ago when he was more of a music connoisseur.
This headphone set is very well made. Right down to the audio cords that are covered with fabric. They are lightweight (280g) and the ear pieces are in a rugged metal V design. They also have air-cushion memory foam on the ear pieces and headband, which provides added comfort. The headset has a durable steel frame. They include audio only and remote/microphone and luxury fabric 3.5mm audio cable. For audio compatibility visit www.V-Moda.com/compatibility
We really, really like this headphone set! I guess the only negative I could come up with is the price $249.99. I know they are worth it because I have seen them and used them, but most families probably would not budget $250 for audio equipment. The thing is, with the size of our family we look for things that will last and that will withstand multiple people using it over and over again and the V-Moda Headphones meets this criteria. We also love their replacement guarantee! (see paragraph above entitledBuilt to Last)
Thank you V-Moda for the opportunity to review this great product!
Share and Enjoy