I received the following product in exchange for writing a review. While I consider it a privilege to receive free products to review, my review is my honest opinion and thoughts of the product.
I was sent the:
Woman's Taxicat Bi-Fold Wallet In Pink and I really liked this wallet. It was not too bulky, and I loved the pink color!

I really liked that the plastic "thing" in the wallet kept my money from sliding around and falling out. I thought that this wallet was a great addition to any woman's closet! This wallet comes in 6 colors and is $23.95. I think this wallet is my favorite of the two wallets.
Executive Checkbook Bi-Fold Wallet With Zippered Pocket In Purple: This great wallet is perfect for the working woman as it holds about 40 thick plastic cards, checkbook, and stretched out cash money plus coins. Their special "divide & conquer" design breaks up your cards into 4 discrete areas so they don't all stagger on one long row leaving huge lumps. How cool is that? The wallet was very nice. And comes in 6 colors. This wallet is $25.95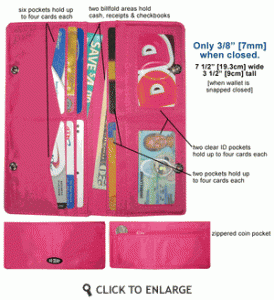 You may find more big skinny products at bigskinny.net come back soon as we'll be doing a giveaway with them!
Share and Enjoy