I received the following product in exchange for writing a review. While I consider it a privilege to receive free products to review, my review is my honest opinion and thoughts of the product.
I received Clementine Art's Natural Paint Set to review and here is my review.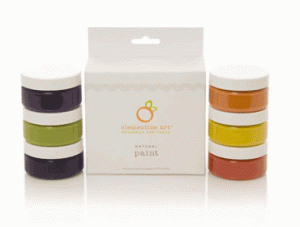 My children thought that the Clementine Art paint painted really well! No clumps, and it dried fast too! It washes of very well. Which is GREAT!

My second eldest daughter thought that it would have been nice to have some white or black in the kit as she could not make a day time scene in her picture as the paint was too dark. She had white and black in her other paint supplies but we chose to stick with using only the Clementine Art product we were provided for. My oldest daughter reported that the paint containers seemed to tip over easily so with younger children it might be best to have an adult helping.
One other observation that the girls made was that the colors do not dry true to the color that they appear. They dry a lighter shade of the color. This happens when you dry the pictures inside and outside in the sun. The colors look almost like pastels when dried.
We thought that it was nice that all of the Clementine Art Supplies where are natural. They have no chemical dyes, or other additives! How neat?
Share and Enjoy