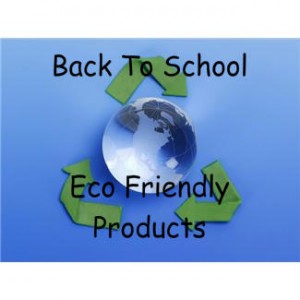 Eco-Friendly Lunch Box Products (Yes, some of these are repeats from the other day but we thought these where worth mentioning again.)
1.) Reduce- Water Week Kids Water Bottles ($17.99) WaterWeek™ offers the ONLY true solution to end the costly and wasteful purchasing of bottled water without giving up convenience. Just fill, chill & go! They are: BPA free, 10oz capacity, Saves consumers an average of $500 per year!, Includes fridge tray that slides neatly into your fridge, Dishwasher and freezer safe, This size is perfect for school lunches. Choose from 3 sets: girls, boys, and sports.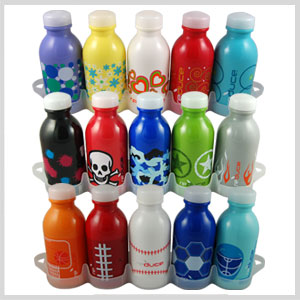 Reduce Everyday has a special running on their Facebook page for $5.00 off any of their water bottle sets. Go here to learn more.
We will also be featuring a review of these too. I'll add the link here once we have it ready.
2.) Easy Lunch Boxes- Check out these great back to school lunch boxes! They're BPA-free, SAFE and environmentally friendly, too! You'll find it easy to 'go green' by using EasyLunchboxes for a waste-free lunch. You can buy a set of 4 lunch boxes for $13.95 and a lunch box cooler for $7.95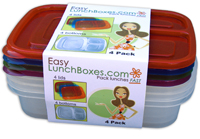 We will be posting a review of the Easy Lunch Boxes at a later date, so stay tuned!
3.) Pack A Lunch- Caterpillar Waste-Free Lunch Kit cut back on lunchtime trash by packing your little one's mid-day meal in a Kids Konserve lunch bag (www.kidskonserve.com) made from recycled plastic bottles. Reusable, waste-free lunch kit includes recycled cotton sack, cloth napkin, 304 food-grade stainless steel beverage bottle, food kozy and two 304 food-grade stainless steel food containers. Lunch Sack is 7″ W x 10.5″ T x 4.5″.
The Kids Konserve Resident Chef is a new monthly feature that challenges chefs across the country to design recipes specifically tailored for a Kids Konserve reusable, waste-free product. You don't want to miss these recipes! http://www.kidskonserve.com/resident_chef.asp.
Also, on August 1, Kids Konserve and Annie's kicks off their "Being Green is Better" campaign. Visit Annies.com to win a FREE Kids Konserve Reusable Lunch Sack.
And check out this 15% Back to School coupon code for all. Enter coupon code: "school" valid through August.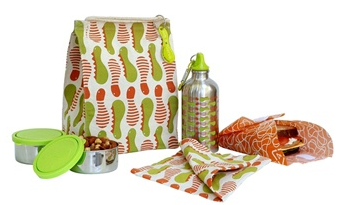 4.) Living Green- Green Little Lunch Pack includes products from New Wave Enviro. It comes with a stainless steel water or juice bottle, a stainless steel food tin, and a lunch back made from 100% sustainable bamboo. ($22.95)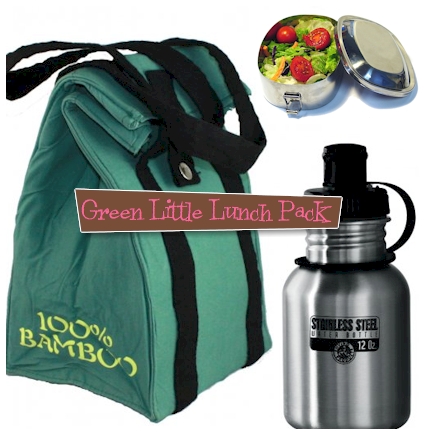 5.) Terra Cycle- Round Drink Pouch Lunchbox this traditional lunch box is made with a twist, because it's made from upcycled drink pouches. This insulated dual compartment lunch box allows you to keep your food and drink separated so your drink pouch stays cool and refreshing, while your food stays crisp and fresh. Specific wrapper is subject to variability. ($8.00)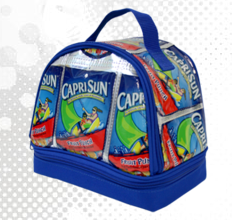 Check back at 12:00 PM today for our feature of Eco-Friendly Fashion Products.
Share and Enjoy