I received the following product in exchange for writing a review. While I consider it a privilege to receive free products to review, my review is my honest opinion and thoughts of this product.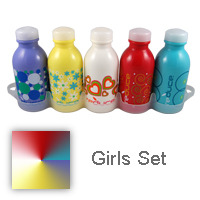 We featured Reduce Kids WaterWeek in our Back to School Product Guide, but since we actually received a Girls Set, we are also posting a review of this product.
WaterWeek™ offers the ONLY true solution to end the costly and wasteful purchasing of bottled water without giving up convenience. Just fill, chill & go!™
• BPA free
• 10oz capacity
• Saves consumers an average of $500 per year!
• Includes fridge tray that slides neatly into your fridge.
• Dishwasher and freezer safe.
• This size is perfect for school lunches.
Green Quality
Eco friendly bottles! WaterWeek™ makes it easy and economical for consumers to reduce the 25 million bottles being disposed everyday. Now you can save on kids lunches too!
Retail Price: $17.99 for a set of 5 eco friendly bottles.
Faith and Family Review
We really like the concept of the WaterWeek and see how it would benefit those attending public school each day. However, me have to be honest and tell you that we did not use them as they were designed. We allowed our younger children to choose a water bottle for their own and they even saved one out for the new baby to use next summer.

Love the holder for the refrigerator to keep them all in one place. The bottles are perfect for little hands. The caps are screw on, which the children haven't had a problem with, but I have. I like the ones that are either like a straw or flip top so the children cannot easily spill the contents or lose the cover. That is my only negative though. When the covers are screwed on tightly, they do not leak.
The colors are bright and the designs fun.
Visit www.ReduceEveryDay.com for additional information about the company or to find out more about the other products they have to offer.
Share and Enjoy