Disclosure: This dinner event was sponsored by MyBlogSpark and I was provided with the dinner, gift card, product and information through MyBlogSpark. My thoughts and opinions are my own. The decision to even write this post was completely voluntary.
As I stated in my MyBlogSpark dinner post, I wanted to write a separate review of Wanchai Ferry entrees, so I am finally writing getting to it! Remember they pulled a PR stunt on us and revealed in our fortune cookie that our entrees were frozen dinners! The thing is they were simply delicious. Truly, we never suspected anything was amiss.
Sweet and Sour Chicken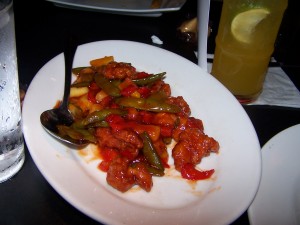 Beef and Broccoli

We tried the Sweet & Sour Chicken, as well as the Beef & Broccoli. The vegetables in each of these entrees were crunchy and tasted very good. There were peppers, water chestnuts, carrots, corn, peas and broccoli. My husband isn't here to run down the list, so I may have forgotten one or two veggies. The meat was tender and very yummy to our hungry taste buds. We loved the sauces too that each entree was saturated in. The only negative thing, as I mentioned in my Ben Pao post, was that my husband felt there wasn't quite enough rice served with the entrees. From my understanding, the rice is included with the Wenchai Ferry entree.
We are looking forward to using our free entree coupons to try the rest of the entrees or the ones we already tried since the children have not tried either of them!
Again, we thank MyBlogSpark, Ben Pao and Wanchai Ferry for such a great dinner!
Share and Enjoy