Disclosure: This dinner event was sponsored by MyBlogSpark and I was provided with the dinner, gift card, product and information through MyBlogSpark. My thoughts and opinions are my own. The decision to even write this post was completely voluntary.
Amazingly, last night I found myself in the city of Chicago for the second time in two weeks for a blogging event. I am a member of several blogging networks, but both events this month was a first for each of these two networks – TheMotherhood.com and MyBlogSpark.com.  Last night my husband was my companion and we enjoyed a rare night out without the children, as we dropped them off at grandma's house on our way into the city.  Here is the dinner event that we went to:
MyBlogSpark Dinner
Thursday, July 22, 2010
7:00 p.m.
Ben Pao
52 West Illinois St.
Chicago, IL 60654
My husband is not a huge fan of Chinese food, however, he was game to be treated to a free dinner! Once again even though we gave ourselves an extra 20 minutes, it was not enough for Chicago traffic. Look what we met up with as soon as we were on the expressway: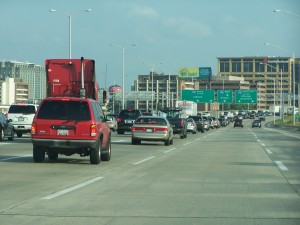 Clear lane, until we got to the toll booth: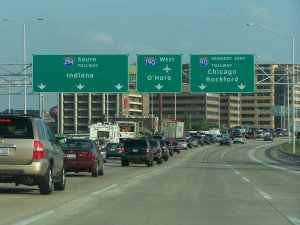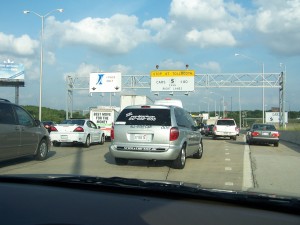 And all the way into Chicago this is what we saw: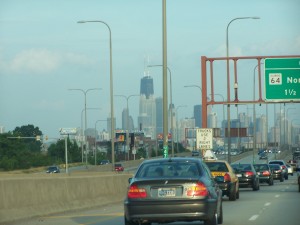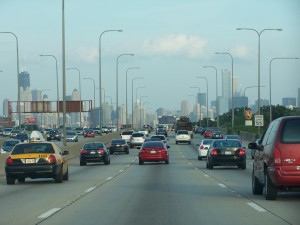 I love the Chicago skyline and wished I had a camera with the capability of taking a wide lense shot to capture the whole skyline that we saw from the 294. My camera just doesn't do it justice: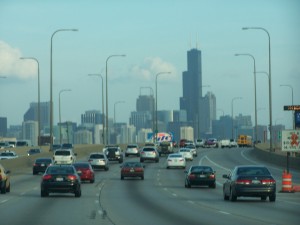 Downtown Chicago: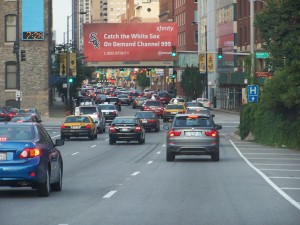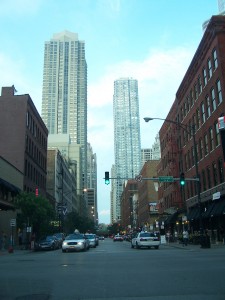 It was amazing to see how busy the streets were even on a summer evening. Yes, I do believe that was my first trip into the city on a summer evening in the whole 16 years I have lived here. We have usually gone during the day or when picking up a friend at the train station during winter evenings.
We left a few minutes before six o'clock and did not hit downtown until about 7:30pm! I ended up calling the restaurant to inform them that we were caught in traffic, not realizing that MyBlogSpark had reserved the whole restaurant for this special event. Once we arrived at our destination parking was atrocious and my husband was very hungry, so he spent about 15 minutes looking for spot before opting to take advantage of the $10 valet parking that was being offered in front of Ben Pao. Otherwise parking areas were $14! What are parking fees like in other cities?
The Ben Pao: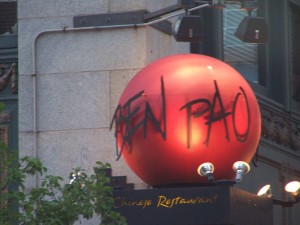 I didn't get a picture of the whole outside of the building, unfortunately.
We really enjoyed the service at Ben Pao and the food. The only thing we did not try were the Crab Rangoon since neither of us eat seafood.
The following photos are of our four course meal. Don't get too hungry looking at the pictures!
First Course: Hot and Sour Soup served very hot! Very tasty, but we aren't sure what was in it besides the green onions! It was like a beef broth with chucks of some sort of meat. Check out the soup spoon in the second photo, neither of us had seen a spoon like that before: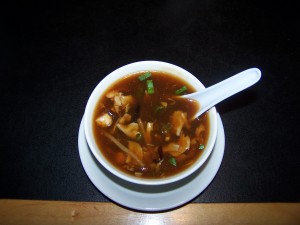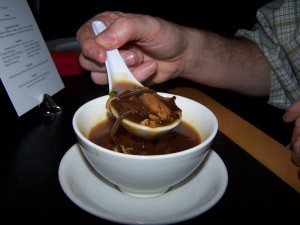 Second Course: Appetizers that consisted of Chicken Lettuce Wraps, Golden Crisp Vegetable Spring Rolls, Crab Rangoon and Chicken Potstickers.
Chicken Lettuce Wraps, which the chicken, noodles (?) and sauce were put in the lettuce and folded or like a taco or burrito to eat: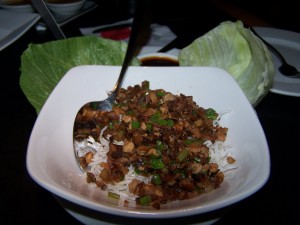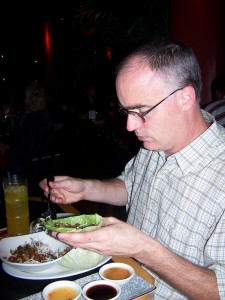 The rest of the appetizers: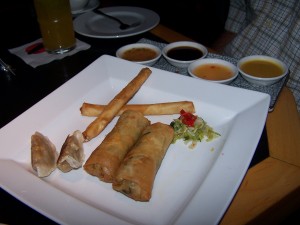 The sauces – mustard, chicken, ginger and I cannot remember the fourth…knew I should have written it down!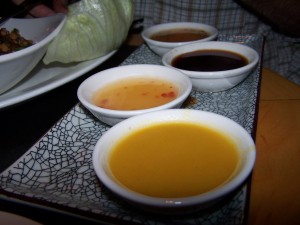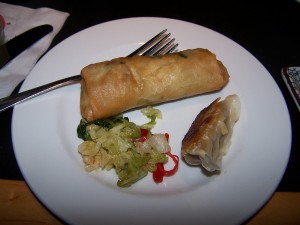 Third Course: Sweet & Sour Chicken and Beef & Broccoli served with rice. Robert was so hungry that he thought that there wasn't quite enough rice – and he doesn't even like that much rice under normal circumstances. This dinner wasn't normal since his belly was hungry at 5:00pm! Poor guy. He was well fed and satisfied at the end of the meal though!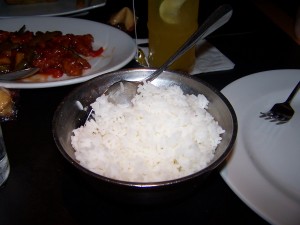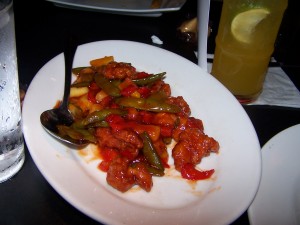 Fourth Course – Dessert: Lemon-Ginger Cheesecake and Chocolate Spring Roll
Lemon-Ginger Cake Cheesecake was very yummy!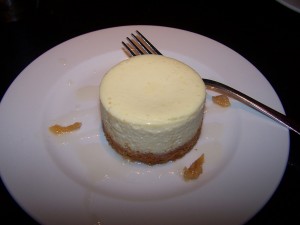 Chocolate Spring Roll were also very yummy! Robert thought the chocolate tasted funny/different, but I thought it tasted like melted heated chocolate and when it was dipped in the peanut sauce…hmmmm…..delicious! I figured maybe Robert's Passion Fruit Lime soda was affecting his taste buds because he is a chocolate connoisseur usually.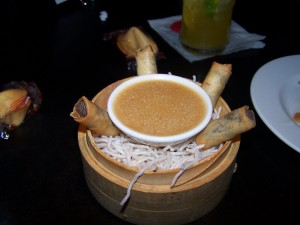 Non-Alcoholic Drinks: Homemade Ginger Ale (pictured first) and Passion Fruit with Lime that was served with carbonated water so it was like a soda. Both were very good.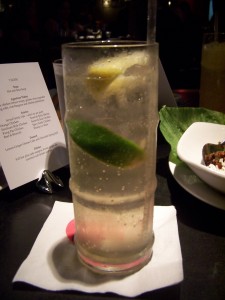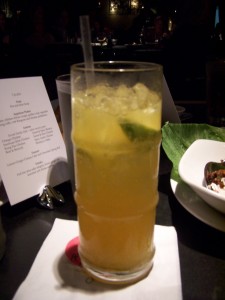 MyBlogSpark had something special lined up at the end of the meal with our fortune cookies.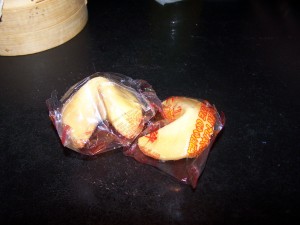 Inside our fortune read:
Wanchai Ferry: Surprise! The entree you sampled this evening was a frozen dinner from Wanchai Ferry!
Our server/waitress had to tell us because we had not opened our fortune cookies, as we were going to take them home to show the children! We were very surprised by the switch, but since this review has become so long, you'll have to come back to read a separate review of the Wanchai Ferry entrees!

on the back it said:
We'd like to thank Ben Pao for helping us pull off the switch.
Everything was served piping hot. The service was excellent and of course my company was divine!

I think we'd go back, it's just the distance that becomes a factor for us since we are not in downtown Chicago very often. However, we were given a couple of coupons to use by the end of the year, so who knows perhaps we'll make it down just for a night out again. We'd highly recommend Ben Pao.
Thanks to both MyBlogSpark, Ben Pao and Wanchai Ferry for the opportunity and privilege you afforded us last night!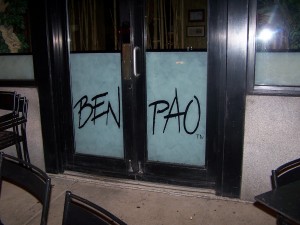 Lighting in the restaurant was dark, sorry!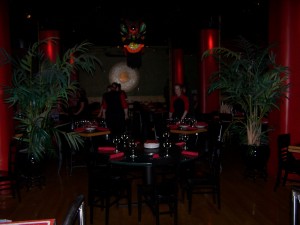 Share and Enjoy