I received the following product in exchange for writing a review. While I consider it a privilege to receive free products to review, my review is my honest opinion and thoughts of the product.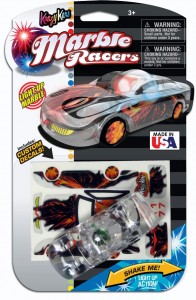 About a week ago we received a six pack of Light Up Marble Cars to review. We have not done too many toy reviews, but these Marble Racers were an instant hit among our children. These little cars enabled me to get a bunch of work done with minor interruptions of excited exclamations over their new cars. I am sure it kept them busy for an hour or more. Seriously. By the time they put the decals on, which the older girls helped the younger two and the rest were able to put the decals on pretty much unassisted, but once that was done they played with them and raced their toy cars on the floor. They loved the fact that they lit up and said they could use them as their flashlights!

These little toy cars have held up well under the wear and tear of six little pairs of hands racing and zooming them across the floor.
My husband is in a buyer in the hobby industry and thought the Marble Cars were pretty neat. He thinks they'd sell at the shop he works at and plans to ask his distributor to carry them, as they do not currently do so. That's 30 years of experience talking, so I am excited that he is able to get the word out about these cool little toy cars.

About Marble Cars
Light Up Marble Racers combine the racing excitement of mini-toy sports cars and the classic amusement of marbles to create a fun new toy for boys and girls 3 years of age and older. Kids customize their Marble Racers with themed, easy to use, crack & peel racing decals, race their creations on standard tracks, and then watch as the flashing LED marble rolls to keep pace with their speeding car. Light Up Marble Racers are the anti-video game: an old fashioned-type toy that gets kids away from the catatonic video game state, piques their creativity, and helps them to interact with other children.
There is nothing like it on the market. There are racing cars. There are marbles. But nothing else that combines these 2 classic stand-bys into 1 unique, fun "do it yourself" toy. Available in 6 electrifying styles – Police Racer, Fire Racer, Cats' Eye Racer, Cyclone Racer, Confetti Racer, and Volcano Racer – this unique, colorful, new toy makes a great birthday gift or party favor. They retail for $4.99 to $6.99. Click here for more information about Light Up Marble Racers and to find a list of retailers where they are sold.
Here's a little video MarbleRacers.com has on their website:
Made in The OC: Marble Racers from Marcy Massura on Vimeo.
Stay tuned because we are offering a 6 pack Marble Racer giveaway on Friday once our Bebe-O Prenatal Vitamin giveaway is over!
Share and Enjoy