I received the following product in exchange for writing a review. While I consider it a privilege to receive free products to review, my review is my honest opinion and thoughts of the product.
I received for review a sample package of 25 sample eyeshadow and 4 full sized eyeshadow from Aroma Leigh but I am just going to share with you 3 out of the 29 that I received! Normally I don't wear eyeshadow but decided to this time since it has NO chemicals and I wanted to try it!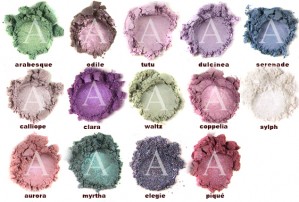 Tutu: This delicate light pink eyeshadow is very soft and is a nice shade when blended with Jewel. It has a soft pink violet plush matte base with a soft golden copper highlight. It is very sparkly! This collection was modeled after ballet colors.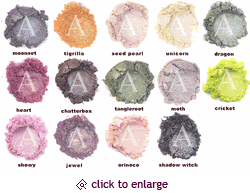 Jewel: This color blends nicely with Tutu. It is very nice and one of my favorites! It is a cool purple with shimmers of coral gold contrasting the purply goodness. This collection was modeled after the famous botanical gardens at the Bellagio Hotel in Las Vegas.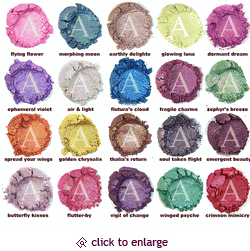 Glowing Luna: This collection was modeled after butterflys and I think that the name suits the colors don't you? It is very shimmery color, and is a pigmented warm green yellow… or yellowish warm green? You choose. Sparks of copper and pink add an ethereal dimension. I LOVE this color!
And I bring this review to a close with some bad news, and good news. The bad news is that Aroma Leigh is closing. The good news is that she is offering us 35% off of everything in store and in stock! Here is the link.
Share and Enjoy