Did any of you watch "Real Women of Philadelphia" last night? I admit I didn't, but would like to catch any videos they might have. I was working, what can I say?
If you missed the live streaming event, then here are the winners:
The winners of the online cooking competition and talent search, "Real Women of Philadelphia," were announced last night during a live ceremony hosted by Paula Deen at the Lucas Theatre for the Arts in Savannah, GA. With an existing digital RWOP community of more than 220,000 cheering them on, Mandy Heaston, Caryn Ross, Sheila Cutchlow and KC Quaretti Lee were crowned "The Real Women of Philadelphia."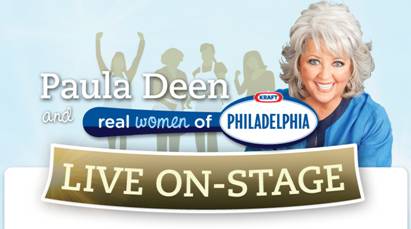 The Real Women of Philadelphia categories included: appetizers, side dishes, entrees and desserts. All contestant dishes were judged by Paula and her friends. The four winners are as follows:
Mandy Heaston, Seattle, WA
Side Dish
Asparagus & Parmesan Cream Pastry
Caryn Ross, Norman, OK
Appetizer
Sassy Tailgate Sandwiches
Sheila Cutchlow, Washington, DC
Entree
Joy Bundles & Rice
KC Quaretti-Lee, Venice, FL
Dessert
French Apple Cake
Each winner received a talent contract worth $25,000 and the opportunity to host their own weekly online cooking show on www.PaulaDeen.com/RealWomen. The winners will also have the chance to contribute to a cookbook featuring the community's favorite cream cheese recipes.
"Congratulations to our 'Real Women of Philadelphia.' We've been absolutely overwhelmed by the response, engagement and authenticity of the community," said Adam Butler, Brand Manager Philadelphia Cream Cheese. We love the creativity and passion that's being shared between these women and look forward to bringing more fun and new challenges in the future."
Since the program's launch in March 2010, the Real Women of Philadelphia community has seen significant growth, and has hosted more than 590,000 unique visitors to the site. The Real Women of Philadelphia have created their own site profiles, uploaded pictures, written articles, and self-produced more than 5,000 entertaining, emotional and creative short videos showcasing how they use Philly in their favorite dishes – whether it's their secret ingredient for smooth mashed potatoes or the perfect creamy pasta sauce. To date, these compelling cream cheese-based recipe videos have received a total of approximately 19 million views across various media channels and the RWOP site.
Visit www.PaulaDeen.com/RealWomen to find out more about the Real Women of Philadelphia community and find and share Philadelphia Cream Cheese recipes and tips with other real-life cooks.
Share and Enjoy