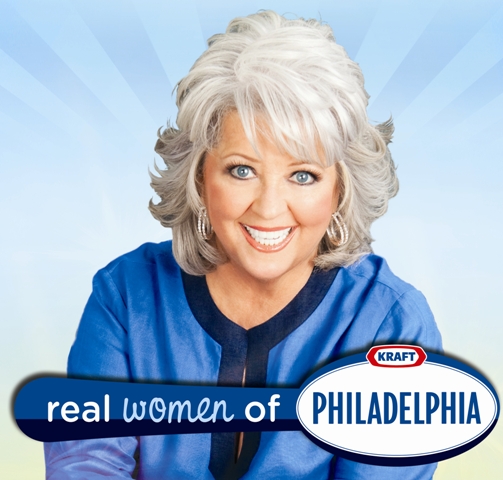 Paula Deen's nationwide cooking contest 'The Real Women of Philadelphia', comes to a close this week with the final LIVE EVENT in Savannah, GA. Be sure to watch the grand finale LIVE on June 30, 2010 at 8 PM EDT at http://www.PaulaDeen.com/RWOPLive
Updates from the event by Jen Peer, the "voice" of RWOP, can be found on the main blog at http://www.realwomenofphiladelphia.com/

Food Network Star Helps Other Cooks Hone their Culinary Talents
Whether it's that crowd-pleasing appetizer or your family's favorite casserole, every great recipe has a go-to ingredient that provides a special touch and creates an inspired flavor. That's why Philadelphia Cream Cheese and Food Network star Paula Deen have teamed up to host the Real Women of Philadelphia community and casting competition on www.PaulaDeen.com/RealWomen. Home cooks across the country are invited to share how they bring everyday dishes to life with Philly for a chance to win $25,000 and be named one of the Real Women of Philadelphia.
On March 22, cooks began visiting www.PaulaDeen.com/RealWomen to join the Real Women of Philadelphia community and on March 29 they started submitting video auditions showcasing how they use Philly in their favorite dishes – whether it's their secret ingredient for smooth mashed potatoes or the perfect creamy pasta sauce. Paula has joined the fun too and has posted weekly videos sharing how she prepares her favorite recipes, along with her down-home ideas, tips and tricks.
"I love to take a traditional meal and give it my own twist by adding a new and unexpected ingredient like Philly," said Paula Deen. "Since I got my start through hard work and determination, I jumped at the chance to give talented home cooks the opportunity to shine through the Real Women of Philadelphia community."
Based on their videos, 16 lucky finalists have been invited to a live cook-off with Paula in Savannah, Georgia. Each contestant's recipe will be judged by Paula and her friends and four lucky ladies will be named the Real Women of Philadelphia – winning $25,000 and the opportunity to host their own weekly online cooking show on www.PaulaDeen.com/RealWomen. In addition, these four women will get the chance to contribute to a cookbook highlighting the community's favorite cream cheese recipes.
Visit www.PaulaDeen.com/RealWomen to find the complete details about the Real Women of Philadelphia casting call and share recipes and tips with other real-life cooks.
About Kraft Foods
The combination of Kraft Foods and Cadbury creates a global powerhouse in snacks, confectionery and quick meals. With annual revenues of approximately $50 billion, the combined company is the world's second largest food company, making delicious products for billions of consumers in more than 160 countries. The combined company's portfolio includes 11 iconic brands with revenues exceeding $1 billion – Oreo, Nabisco and LU biscuits; Milka and Cadbury chocolates; Trident gums; Jacobs and Maxwell House coffees; Philadelphia cream cheeses; Kraft cheeses, dinners and dressings; and Oscar Mayer meats. Another 70+ brands generate annual revenues of more than $100 million. Kraft Foods (www.kraftfoodscompany.com; NYSE: KFT) is a member of the Dow Jones Industrial Average, Standard & Poor's 500, Dow Jones Sustainability Index and Ethibel Sustainability Index.
Share and Enjoy