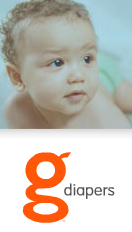 I discovered a new cloth diaper that I am seriously considering for baby "Angel" (nicknamed by my husband). So after I read about the gDiapers, I googled giveaways and found one giving away a medium size "good earth" gPant. Of course, I entered and this post is worth two entries so that's why I am posting about it!
Fabulous Family Reviews is hosting a gPant giveaway and even has a gDiaper review posted to share her experience with gDiapers. I have read a few reviews on some sites and most of them are positive. A few had trouble with leakage, but that could be the fit of the diaper or that baby just needed to be changed more often.
So please, if you are interested in biodegradable diapers that can also be used with cloth inserts, visit Fabulous Family Reviews giveaway!
Share and Enjoy