Yesterday's Wordless Wednesday picture is of my husband using a little John Deere tractor at our growing field. We had our tractor lesson last Tuesday evening and yes, I even drove it, but have left the rest of the tilling to Robert as I can live without running a machine as long as I know I can drive it. There is something about machines and mechanics that fascinate both my husband and boys.
We started planting on Saturday and have continued each day this week. We are beginner's, especially on this scale, so we are finding that we probably could use some more seeds depending upon how much of our direct seed planting yields in plants and produce.
We had a little mishap when we went out to the field on Monday – some transplants were pulled up and some rows were trampled on.

Talk about a bit of a discouraging start! We think we know what happened and are hoping and praying it won't continue throughout the growing season. Perseverance is needed, that's for sure. If it isn't birds, pestilence or some plant disease it is sure to be something else to challenge our learning curve!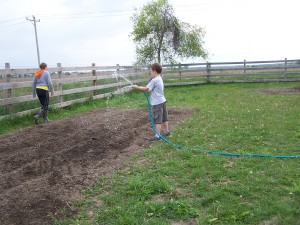 Robert is pulling double duty working nearly full-time hours at work and then getting up early in the morning so he can get off early so he can go out to the growing field with us. It is such a blessing to have his support, help and involvement. We are hoping and praying for a bountiful crop, but only time will tell how this first year of growing goes.
If you look at the green grass in our growing field that tells you how much the weeds had gone to seed, so we are trying our best to weed out the rows before we plant in hopes of hindering how much they come back. We are seriously considering straw or landscaping fabric to aid in the amount of weeding because I fear we won't be able to stay on top of them as my pregnancy advances.
I have more photos, just not on this computer, so I will try to post more of our journey into farming either on Wednesdays or in another post.
Share and Enjoy