I received the following book in exchange for writing a review. While I consider it a privilege to receive free products to review, my review is my honest opinion and thoughts of the book.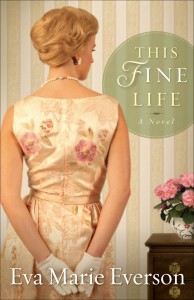 I enjoyed the book, This Fine Life. It is a book about growing up and in Christ. It shows real characters struggling to find out who they are in Christ. The story is set the deep South in the late 1950's and reveals the struggle of a young lady, Mariette Putnum, who doesn't know what she wants to do with her life after high school graduation. Each of her parents have their own ideas as to what she should do, but she is quite undecided. The book takes a turn when Mariette is changed by one event. From that point on there is excitement and strain in relationships, which affect each of the characters' decisions and emotions .
Based on the description of the book, the story was different than I expected in many ways, so I am hesitant to give away too many details because if you choose to read the book, I want you to have that same element of surprise of the unexpected.
I was able to take something from the real life struggles of the characters in This Fine Life. It really made me think through life's trials and how we can always see the "finer" side of things if we try, if we persevere and have faith that God has everything under control.
"This Fine Life proves that growing into love can rip one apart, quitting might be the easiest thing, but walking away is out of the question. I bled with these characters as they struggled to become who they were meant to be. So real and so true to life."
—Lauraine Snelling, author, Daughters of Blessing
Eva Marie Everson is a successful speaker, a popular radio personality, and the award-winning author of Things Left Unspoken. She is coauthor of The Potluck Club series and The Potluck Catering Club series. She lives in Florida.
"Available May 2010 at your favorite bookseller from Revell, a division of Baker Publishing Group."
Share and Enjoy