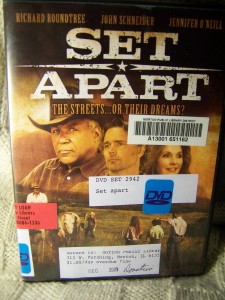 We requested the movie Set Apart from our library via interlibrary loan. We had read a description of it in the CBD catalog and were intrigued.
Set Apart is about a ministry reaching out to inner city kids who are being tempted all around by negative influences. Four of those kids get an opportunity to escape to the country side to see what life on a ranch is like.
Friendship, trust, action, excitement, comedy make up this poignant drama. It may be a little scary in parts for little ones, so parents be advised you may wish to view it first so you can properly prepare them.
We really enjoyed it as a family, so wanted to be sure to mention it as another family-friendly movie.
Share and Enjoy