I received the following product in exchange for writing a review. While I consider it a privilege to receive free products to review, my review is my honest opinion and thoughts of the product.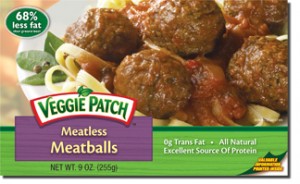 We were sent two coupons to try the Meatless Meatballs from Veggie Patch, which we did last weekend. We really liked them. They were very good and made a very easy tasty meal. There were no complaints from anyone and the children ate them without any problems. Another interesting thing is that we could not tell they were not meatless!
I get concerned when I read labels and find "natural flavors" and "carmel color" because those terms have been known to mask MSG. And the package of these meatless meatballs contains these two ingredients. However, my oldest daughter informed me that there is a non-GMO caramel color being used now (since 2004 according to my research) and Veggie Patch does use non-GMO soybeans, so there is hope with this product. I saw no where on the Veggie Patch packaging that this product certified organic, so it is pretty safe to assume it is not organic.
Take a look at the ingredients listed on the package: Textured Vegetable Protein (Water, Soy Protein Isolate and Concentrate, Wheat Gluten, Wheat Starch), Carrots, Soybean Oil, Egg Whites, Contains Less than 2% of Onions, Inulin, Spices, Sea Salt, Potassium Chloride, Dextrose, Hydrolyzed Protein (Corn, Yeast, Wheat), Modified Vegetable Gum, Calcium Carbonate, Vegetable Fiber, Garlic, Yeast Extract, Natural Flavors, Caramel Color, Cultured Dextrose.
Resources:
http://www.veggiepatch.com/faq/index.php/section/20
http://www.caramel.com/EditorUpload/File/compliance/GM-6-07.pdf
http://www.seedsofdeception.com/DocumentFiles/141.pdf
Share and Enjoy