I recently purchased a little ebook for just $5.00-5.99 called, Author Mama. It was written by author Christina Katz, who also wrote Writer Mama, which I got at my library and read last summer. Then during the winter I proceeded to hunt it down and found it for only $2.00 on ebay and bought it for our home library. Both books are very good and definitely helpful to mothers who are trying to write for a living – be that as a blogger, article writer or an actual book writer. Sometimes one leads to the other, in case you did not notice.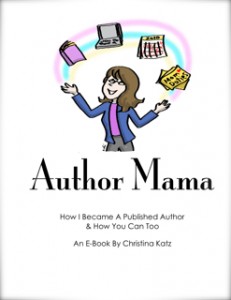 I found that Author Mama was one of the next steps after Writer Mama. Where Writer Mama gave tips on how to actually get articles published, fight procrastination and get into the habit of writing everyday, Author Mama shared Mrs. Katz's experience on how to get your book published and how she's done it. She also had a book called, Get Known, which is on my list to read.
Getting published is a lot of work. Just as bloggers know how much time and effort is involved in blogging before you even start to see some money trickle in, getting published is very much like that process. Time, work and effort, not to mention perserverance. I appreciated Mrs. Katz perspective, what she had to share and hope the book is of help to other mothers out there who are "Writer Mamas" too.
Share and Enjoy