I received the following book in exchange for writing a review. While I consider it a privilege to receive free products to review, my review is my honest opinion and thoughts of the book.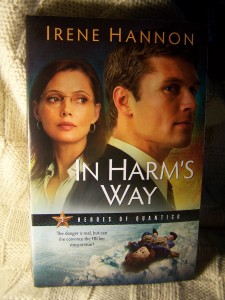 In Harm's Way was another suspenseful book that was a good read. I found it a bit more predictable than I did Too Close to Home, but it was a good story line with a bit of romance tucked in for the romantic at heart.
This book is actually the final in a series called, Heroes of Quantico, but each of the books can be read without reading the others, so it wasn't like I felt I was missing any details. It was about another FBI agent who is hard pressed to solve an uncanny, yet intriguing mystery. All because of a rag doll. I loved how the author wove the story line of this together. She did catch me off guard with the spin she put on one aspect of the story.
What struck me in this book was how badly some people want children, but cannot have them. One character in this book wanted children so badly she was willing to do anything to have a baby. It is sad and I realize how much I take for granted my ability to conceive. Not that I haven't had my own difficulties with our losses, but still I have seven children here with me. The rest just happen to be waiting in heaven.
Another topic of interest In Harm's Way deals with is the intuition between twins. I find that intriguing and I know that this isn't just some phenomenon, like ESP, which is touched on in the book as well. Before I even told my mother I was expecting again, she outright asked me if I was pregnant. I was taken aback and asked her what made her ask and she said she just had a feeling. Now, that doesn't happen all the time or with every pregnancy and is certainly of a different calibur of intuition that that of twins; which I happen to believe in because I don't doubt God's ability to give such close siblings the ability to feel and "know" something about a person who was knit together with them in their mother's womb. Intuition is just one of those uncanny things you just cannot explain. And it is one aspect of the story that the main character must deal with too.
I would recommend this book to anyone looking for a change of pace in their normal reading. It is another good, clean mystery that I really enjoyed.

"Available April 2010 at your favorite bookseller from Revell, a division of Baker Publishing Group."
Share and Enjoy