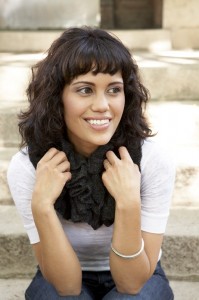 Just received word that Mayu is hosting their first giveaway, so I thought I'd share it with all of you. Mayu is hosting their first giveaway! Remember that Mayu is a fair trade company that sells eco friendly, organic hand-knit alpaca products.
They are giving away a chocolate colored ruffled scarf. This is Mayu's best seller and retails for $119 and could be yours for FREE! All you have to do is go to Mayu's blog and check out the ways to enter this great giveaway. I even entered for the fun of it since I was going to write this up anyways to help them promote their giveaway.
See details on Mayu's blog: www.shopmayu.com/blog.
Mayu would appreciate help in spreading the word about their giveway, so please feel free to pass this information along to others!
Share and Enjoy