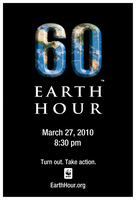 Just wondering if anyone participated in Earth Hour on Saturday night? We did, but we were late starting because we were watching the movie, Far From Home: The Adventures of Yellow Dog, and with only 15 minutes left we opted to do our hour from 8:45pm-9:45pm. By the way, good movie!
I had grandoise plans for our family, but I guess I should have shared them with everyone before hand because while Earth Hour was spent in the dark, it wasn't anything like I was expecting!
First, Robert was not feeling well. Second, I had pictured all of us crowded in our bedroom with perhaps the flashlight, (I considered candles but with so many bodies in one room decided for the safety reasons the flashlight was enough) and we'd get some discussions going.
Well, when you put a sick husband, seven children and a wife/mom who wants to talk in a dark room for an hour what do you get? Giddy children, grumpy husband and a disappointed wife/mom!
I am sure our children will have fond memories of our hour of darkness because they played and goofed around, while my husband asked them to tone it down because he had a headache and I bemoaned that this is just not what I pictured us doing.
Result? Happy children, tired, sick husband and disappointed wife/mom. But we did conserve energy.
How was your Earth Hour?
Share and Enjoy