Yesterday's Wordless Photo was of "Guy Smiley" after losing his second tooth. His first tooth he lost a couple of years ago when he and his brother were goofing around in their room with a skipping rope. They had looped it around their top bunk guard rail and he somehow caught his tooth in it and pulled it right out! I mean, look at this tooth. (I apologize  for the photo quality; our camera just does not take very good up close shots and it looks like there's some ink on it from the jar it's been in.) As an aside, if anyone has any camera recommendations, I would love to hear them.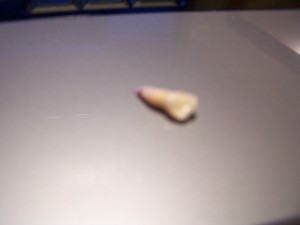 His second tooth came out naturally due to the adult tooth coming in. Still no sign on the side that came out unnaturally, too soon.
In our house we have had a couple of children who have really made the losing a tooth process an ordeal to remember! Tears ove r losing a tooth, no matter how much we tell them that it is normal and natural. Tears over the blood, tears of fear, tears that it hurts and who knows what else they've said. Perhaps it is with these children we should have succumbed to doing the tooth fairy with them!? Making it a fun thing. That's just hindsight, though.
With a couple of children my mom or I have been sneaky when we've checked a loose tooth, so when we actually checked the tooth we have pulled it! Initially, it stunned the child, but you know what? The next time they had a loose tooth, they either wished for my mom (who lives in Canada) or have asked me to do it again!
Guy Smiley was very happy as you can see from his photo, but that wasn't always the case. He was just very thankful after the ordeal was over and it was easier to eat again!
Share and Enjoy