I received this picture frame in exchange for some work I did for someone.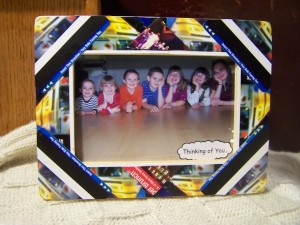 This is the recycled picture frame that I have my children's picture in and have it sitting on my desk. It is handmade by StreetWise vendor, Glenn Hughes. StreetWise is a Chicago based organization committed to helping impoverished individuals get out of poverty. The Recycled Picture Frame is sold by five ACCESSORIES who employs StreetWise vendors to make their Off The Street line of accessories.
The frame that Glen has made is basically a pine frame onto which he has cut and glued clean, recycled ticket stubs. These frames are also customizable upon request. This is truly a unique Chicago product since it has been made out of street rubbish found on the streets of Chicago.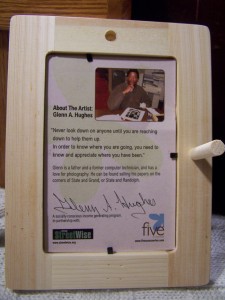 Included with the picture frame is an insert, usually found in frames; however, this insert includes a mini bio of Glenn. I think it adds a personal touch to the product.
As seen below, it has a little wooden post for the stand, which is convenient if you are going to display it on a table or desk. The post fits securely into a hole found on the back of the frame and enables the frame to remain stable while on display. The frame is very well made and I love that a portion of the sale of products sold by five ACCESSORIES is given back to charitable organizations, like the StreetWise vendors. The recycled picture frames sells for $15.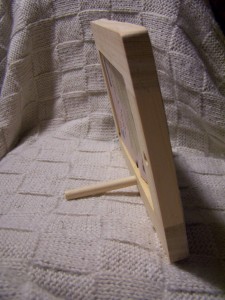 About five ACCESSORIES
five ACCESSORIES is a socially conscious business whose mission is to create income generating programs, give back a portion of their sales to charitable organizations and to promote the use of sustainable materials in fashion. (As stated on their home page).
Share and Enjoy