I received the following product free in exchange for writing a review. While I consider it a privilege to receive free products to review, my review is my honest opinion and thoughts of the book.
The Supermarket Smarty is a nifty little reusable grocery list – everything is listed right there in a five-fold, double sided card that is approximately 8.25″ x 4″. It comes with a larger clip magnet so you can clip your list to it and hang on the refrigerator, a dry erase marker and a reusable meal planner card. Inside it has an extra blank side for Notes. It also includes a magnifying "glass" or window in the front of the card to help shoppers read the small print in the ingredient lists on products. There's even a little pocket inside that coupons could be kept in.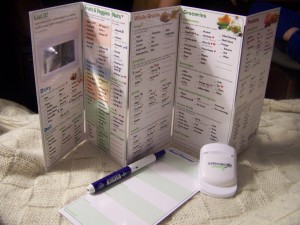 The grocery list itself is broken down into food groups and product categories. The creator even included healthy tips and a symbol key, as well as W.H.A.T? Whole grain, Healthy Oils, Added Sugars and Trans Fat – Important questions to ask before buying processed food.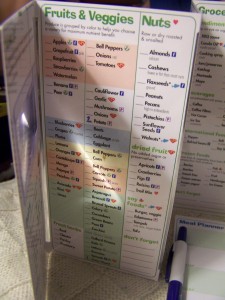 I have found it to be a very useful tool and I really like the healthy emphasis. I usually keep a magnetic pad of paper on my refrigerator so that we can jot down items as our supply runs low or we notice we have run out. This is better because the pages do not peel off and it is reusable. I truly like it.
The Supermarket Smarty costs $12.99 and may be purchased at http://www.supermarketsmarty.com/
Share and Enjoy