Thanks to The Children's Place for surprising me with their generosity…they sent me three beautiful dressy outfits for three of my children for me to review! The PR rep really caught me by surprise when I opened the box to discover what she sent. My children were very excited and pleased.
I am excited to show you a little video of my little girl twirling in her new dress. Not only is her new dress pink – her favorite color, but it fans out when she spins! The pleasures of being a little girl! She was the most excited of the three children, I must say. Therefore, I just have to share the video first, then the rest…
P.S. Excuse my boxes, as we have been boxing up stuff to give away and pack away! (Blush!)
For our daughter, we received a pink, green and white sun dress called Stylin' Sunshine Girl – Pleated Dress. It retails for $29.50.
These items washed up really well with minimal shrinkage, but to be on the safe side in the second washing of my daughter's dress, I hung it dry or at least tumble dried it. The green of the dress will run, as we had that happen when my daughter got chocolate on the front of the dress and we had to soak it. So just be careful not to soak it long.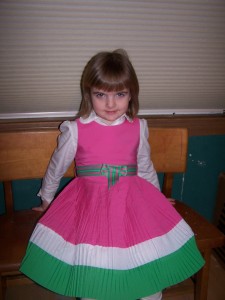 The boys received linen dress shirts with a matching knit vest. The first is the Classic 'n Cool for our youngest son – Argyle Sweater Vest and lavender/purple Linen Shirt. The vest retails for $19.50 and the shirt $16.50.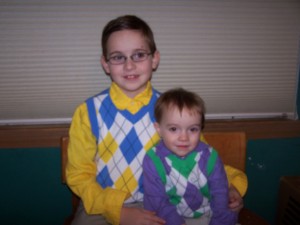 Our older son was given the Prepped 'n Perfect – Argyle Sweater Vest and yellow Linen Shirt. Both retail for the same amount as the smaller size, $19.50 for the vest and $16.50 for the shirt. My older son did find the linen shirt a bit itchy, but was fine with a t-shirt beneath it.
Overall we love these new spring dress clothes!
Visit The Children's Place Spring Dressy Clothes for more information on their new Spring Dressy Clothes www.childrensplace.com
Share and Enjoy