I received a few alpaca items in exchange for some work I did for someone. Pretty nice stuff! So the upcoming three posts will be about three hand-knit alpaca products that came from the online shop Mayu.
The first item is an alpaca throw. The photos on the website do not do it justice even though they are nice photos. I don't think my photos do it justice either! Once I opened the box that the throw came in and touched it, I couldn't believe how soft it felt! It is beautifully made and makes me wish I could knit with such expertise, seriously! My grandmother knitted and I regret not taking up the art of knitting when she was alive. I am between a beginner and intermediate, but this throw is definitely made with expert skills.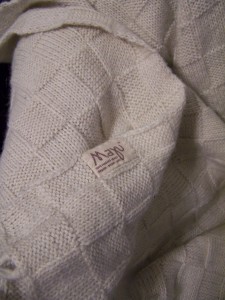 I have a cream colored throw – they have it in chocolate brown, beige and charcoal, as well – and noticed that it is picking up dark colored lint from my "fuzzy" sheets, but that is the only negative thing I have to say about it, besides the fact that it only comes in a twin size! I'd love to have a queen size, but can only imagine what Mayu would have to charge for the finished product after all of their artisans' hard work! As it is, this throw retails for $249.00.
Editor's note: I found out from Mayu that they can make a queen size, so a custom order is available upon request.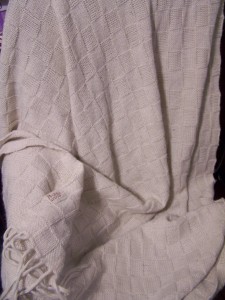 This alpaca throw is very warm. I have warmed up quickly after wrapping it around me or adding it over my comforter; it really takes the chill away. I honestly love it!
Alpaca is an eco friendly resource and all of Mayu's products are considered eco friendly. All of their products are handmade by artisans living in the Andes mountains of Peru. The sale of each item goes to help support the women who made them. For more information about Mayu and this throw, please visit www.shopmayu.com
Share and Enjoy