The diapers I ordered the other day from Diaper.com arrived in two different shipments, just as my order confirmation indicated. One box with the larger sized diapers arrived yesterday and the second box with the four packages of smaller size (anticipating all those newborn diaper needs!), along with my travel pack of wipes. I decided to give the Earth's Best brand a try since they were only 59 cents more than the Pampers wipes.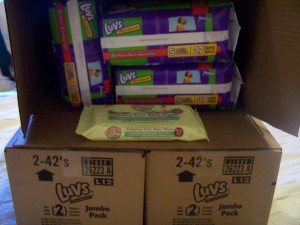 I no longer like Pampers wipes since they changed their formula several years ago to what I have found to be a thinner, disgusting and useless wipe.  I was terribly disappointed at the time since I had used Pampers since our oldest was born! My husband mistakenly bought some Pampers wipes recently and has learned from that mistake! We find we have to use more because they are not as thick, nor are they as wet, plus they dry out that much faster than their competitor, Huggies wipes. Yes, Huggies is our preferred brand of wipes now.
I am a cloth diaper user, but do use disposables for extended outings, trips and when we happen to forget to do a diaper load when the clean supply is low! We really do not stick with one brand of disposable diapers, though; usually we purchase whatever we can get for the best price. I think there have only been one or two off brands that we have not liked, due to the gel- like residue its left on baby bottoms. I cannot think of the brands' names at the moment…sorry!
I'll let you know how we like Earth's Best wipes, probably later next week.
Share and Enjoy