At Christmas time I purchased a couple of gifts for older members of our family from L.L. Bean, while the company was offering a $10.00 gift card for purchase over $25.00. They had a free shipping deal going on, too, which added to the savings. I ended up receiving two or three $10.00 gift cards because I purchased each of the gifts separately due to the free shipping. This enabled me to save money on a couple of my gifts too. I was going to use my last gift card for something for my husband but they really didn't have any good deals going on for men. I ended up getting our family a Boat and Tote from L.L. Bean in the large size with brown trim.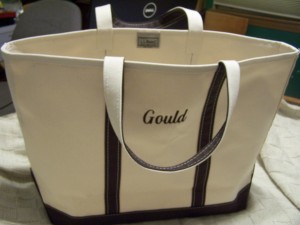 The reusable mesh totes stores give away or sell cheaply really do not last. Canvas is much nicer, more sturdy and lasts longer. Furthermore,  it can withstand toting around a load of heavy books! That's why I ended up purchasing the Boat and Tote. The totes were regularly $25.00, on sale for $18.99, plus I had my $10.00 gift card, making the tote $8.99. I did splurge to get it monogrammed with our last name because I don't think we've ever had anything monogrammed before, plus I wanted it marked as our property in case we left it anywhere by accident. (By the way, they are still on sale! But the free shipping is only valid on orders over $75.00.)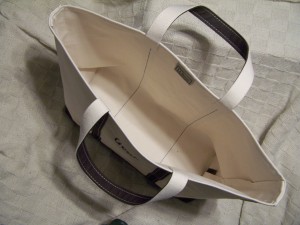 It arrived yesterday and I love it! The large size is a very nice size bag to carry our massive supply of books that we always load up on when we go to the library! I can see using it as a diaper bag and carry-all bag too. The bag measures approximately 23.5″ wide by 15″ high. The base of the bag measures 7.25″ wide, but the top of the bag can expand to 23″ wide. Just in case you were interested! L.L. Bean has this listed for their measurements – Large 15″H x 17″W x 7½"D. Regular handles 8″. I think they did their width across the handles, whereas, I did my width side to side like the monogram.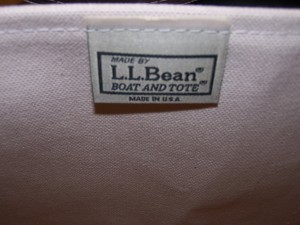 I love the quality of L.L. Bean's products. They make products that last and that are made right here in the USA, not that I am against items made elsewhere. I like buying locally and supporting globally as much as the next person. It's just good to support our own businesses right here in the USA, too, during these economic hard times.
Share and Enjoy