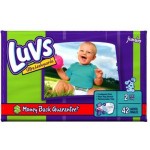 I usually use cloth diapers, but like to have some disposables on hand. We do tend to start with disposables after a new baby is born. I also try to plan ahead and start stocking up on them in advance. So I was very thankful to come across Alyssa's post over at www.KingdomFirstMom.com where she shared that Diaper.com is having a great deal on diapers.
Buy 7 packages of Jumbo Luvs for $6.99, add a travel pack of Pampers wipes to help get your total to qualify for free shipping. Your total will come to $50.92, use promotional code KFM10 to receive $10.00 off, bringing your total down to $40.92. Then Alyssa has a link to a $14.97 rebate form, enabling you to get those 7 packages of diapers plus a travel pack of wipes for just $25.97! A pretty sweet deal, eh?
Alyssa said it only took her 5 minutes to complete all of the above, but I found it took me longer. I hit a couple of glitches while completing my order. Just be aware that the time will vary for each of us.
Please Note: Be sure to pay attention to the details on the rebate form as Alyssa recommends, and be aware that it is only applicable to first time customers at Diaper.com
Share and Enjoy