Faith and Family Reviews received the following product in exchange for writing a review. While we consider it a privilege to receive products to review, our reviews are our honest opinion and thoughts of the product.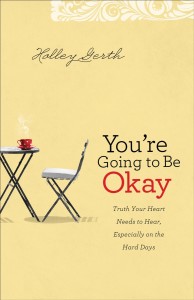 You're Going to be Okay is a novel that uses scripture and the encouraging words of Holley Gerth to lift women up emotionally and mentally.
Covering topics ranging from depression to feeling insecure and unworthy of love, she writes with words of love and understanding.
She acknowledges the fact that life hurts and sometimes we feel down, or that bad things do happen. And while she doesn't attempt to sugar coat it, she writes in a way that makes you feel as though there is hope when things feel dark.
Using examples from her personal life, she makes the reader feel as though you are talking to a close friend. The scriptures that she uses are uplifting and back up everything that she says through the novel.
She also offers tips and advice that she has found helpful through her personal struggles. Some good points that she made were that we were not made to settle for anything less than joy, exercising to help lessen our stress levels, and eating better to help improve overall health.
I recommend this to anyone who is looking for encouragement, and to know and realize that they are enough and that they will be okay.
"Available February 2014 at your favorite bookseller from Revell, a division of Baker Publishing Group."
Share and Enjoy