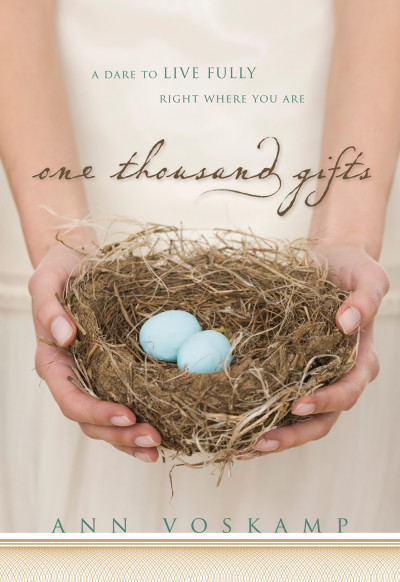 Faith and Family Reviews received the following product in exchange for writing a review. While we consider it a privilege to receive products to review, our reviews are our honest opinion and thoughts of the product.
I am not sure what I was expecting when I agreed to read Ann Voskamp's book, One Thousand Gifts, but it wasn't what I thought it would be. All I know is I was interested in Ann's book because she lives on a farm, has six children and homeschools. I thought she and I had a lot in common and I'd be interested in what she had to say. It turns out we had more in common than I thought.
Ann lost her two year old little sister when she was four years old. A delivery truck driver didn't see her and backed over her.

Talk about tragic. Talk about the family being grief stricken. Ann did not get over it easily, even though she was four years old, as a matter of fact, it seemed to take her years. Her journey is at the root of One Thousand Gifts. It is Ann's story of going from a less than joyful existence to living more fully in the joy of the Lord.
One Thousand Gifts is not "candy" reading. Remember when I said I like to read "candy" books to relax and just get away from every day work and life. It's my rest so to speak. This book requires deep thinking and even personal examination, if you are willing to delve into your soul on a new level. I know I couldn't just zip through reading the book at high speed. I took it slow so I could digest its words.
I thoroughly enjoyed Ann's word studies, especially on eucharisteo (you'll have to read the book to find out what that is!

) It really helped me see some areas in my life where I've been lacking. I will say one thing about living a joyful life, it is first necessary to be a thankful person. Discontentment is a sure fire joy robber.
I'd encourage all women who are looking for more meaning to life to read this book. It is definitely inspiring, soul searching and taught me enough to make me want to change my outlook from one of discontentment to joy and to choose to make gratefulness an every day habit. It's definitely a must read.
Could you make a list thanking God for 1000 things in your life? If you could, how do you think that exercise would change you? Or would it?
One Thousand Gifts may be purchased at any major book retailer.
One Thousand Gifts Review and Giveaway
If you are looking for a great gift for mom, just because gift, encouraging gift, birthday gift, Christmas gift……enter to win a copy of One Thousand Gifts below!

Share and Enjoy