This is a featured post.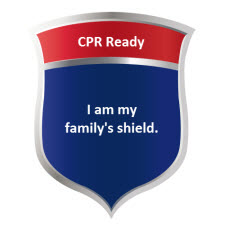 Protecting your family is obviously important to everyone. This summer the American Medical Learning Center is trying to raise awareness on the importance of learning CPR with their Be a Shield campaign.
Learning CPR isn't as difficult or complicated as one might think. Thanks to ACLS campaign, the statistic of over 70% of adults who aren't comfortable administering CPR can change with their free program. In just six easy steps you can brush up on providing CPR to not only infants, but children and adults as well.
Through the campaign they are trying to raise awareness and knowledge for the need to have life saving skills like rescue breathing and chest compressions. The steps are simple enough that even tweens and especially teens can learn them as well. Who knows, but you might just need the refresher course. Hopefully, the life saving skills won't be needed, but you never know what might happen. And it's never a bad idea to be prepared.
It doesn't take much time to brush up and re-learning or learning CPR this summer doesn't sound like a half bad idea to me.
Protect your family and find out more about the Be A Shield campaign here.
Share and Enjoy