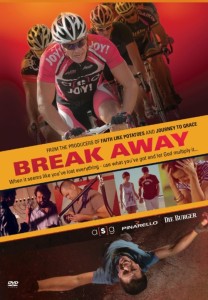 Break Away is a new movie from the producers of Faith Like Potatoes and Journey to Grace. It's an inspiring Christian film about how God always provides.
Francois is a husband and father who recently lost his job after his company went bankrupt. He's struggling to provide and understand why this happened to him. Through the ups and downs, he discovered how to multiply and use what he had. With the help and support of good friends, his wife, and his brother.
Break Away had a good message. At times it lagged and was a wee bit boring, but the message was wonderful. Hearing about how God always provides and loves his children is a message always worth hearing.
We found that the soundtrack sometimes overpowered the sound and it was often hard to follow. Since it takes place in South Africa, the actors accents can be very hard to understand at times.
You can find Word Films on Facebook. Be sure to like them so you can find out more about Break Away and their other old and upcoming films.
Thanks to Word Films for sending us a copy for review.
Share and Enjoy