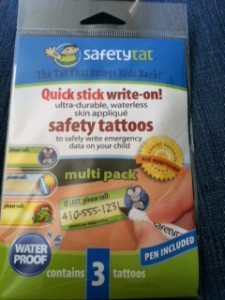 We've all had it, that sudden panic blood rush in an amusement park, in the store, or in a large crowd.  Where is my child!  This is one of those products that I love the idea but, hopefully will never have to use it to it's fullest extent.  SafetyTat is safety tattoos that you write on for an emergency situation.  They are very easy to use too!
Step one you need a clean area on the skin – SafetyTat suggests the inside of the forearm.
Step two peel the entire tattoo off the backing and stick to the child's skin and firmly press for 20 seconds.  No water needed for these as the adhesive will stick because of body heat.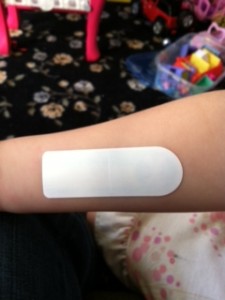 SafetyTat Review
Step three peel the band aid like top layer off, then write your mobile number on the tattoo.
Removing them is also easy they peel off like a band aid.  However, when they are removed they will NOT stick again.
They are very durable and waterproof!  We tested the waterproof feature under the sink and yes, they are waterproof.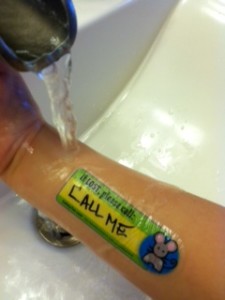 At SafetyTats online you can order many different tattoos for several occasions too!
Click here to order your SafetyTats at their website!
Share and Enjoy