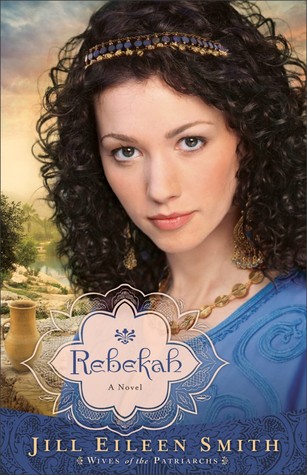 Every time I read a book about one of King David's wives or the Patriarchs the authors make me think about the story in a different light. This was the case with Rebekah by Jill Eileen Smith in the second book of the Wives of the Patriarch's series.
I enjoyed reading Rebekah and Isaac's love story, as it is on of the most amazing in the Bible. Rebekah trusted God and a servant when she agreed to marry Issac without ever meeting him. I don't know about you, but I don't think I could possess a faith like that at all.
Jill's angles in the relationships between Abraham and Sarah, Isaac and Rebekah, and Isaac & Rebekah and sons made me think about wonder about their full stories. I enjoyed reading Jill's perspective. I cried too, but that's a given when you empathize with characters you read about right?
I recommend this book just so you think about the different circumstances in Isaac and Rebekah's meeting, marriage, and parenting. This book is sure to make you pensive if anything about the lives of Isaac and Rebekah.
"Available February 2013 at your favorite bookseller from Revell, a division of Baker Publishing Group."
You can also join best-selling author Jill Eileen Smith as she presents ten facts and/or possibilities you might not know about the Patriarch Isaac's wife Rebekah. Do you have a question about the people in the Bible you've always wanted to ask? Jill will take questions about biblical characters, biblical fiction, and about any of her books in the Wives of the Patriarchs or Wives of King David series. So please, plan to join us!

Jill Smith will be the featured guest on a Live interactive Video Chat Session sponsored by "Shindig" on Tuesday February 19th at 7:00 pm EST!! It's free to attend, and you can meet Jill and ask any questions you have for her! Go here to RSVP and find out more details about this event.

Faith and Family Reviews received the following product in exchange for writing a review. While we consider it a privilege to receive products to review, our reviews are our honest opinion and thoughts of the product.
Share and Enjoy