If you like historical fiction, especially set in the West, you will probably like Waiting for Spring by Amanda Cabot and is the second in the Westward Wind series. This book is set 1886 in the Wyoming Territory and is a story about an independent woman named Charlotte who is making a life for herself and son, in Cheyenne, working a dressmaker.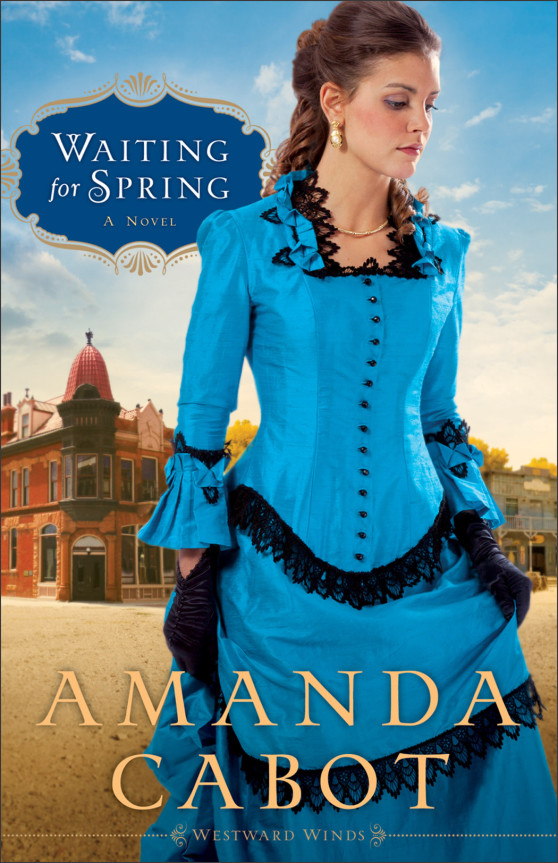 Charlotte has a secret though and had to tell some lies to keep her secret hidden. As you all know, secrets have a way of being discovered and as things start to unravel so do the lives of those around her. She also has something to fear but won't allow herself to talk to anyone about it, even her family in another state.
Power, politics, social standing and money are not important to Charlotte, but they are to Barrett Landry, a wealthy cattle baron, who Charlotte fast becomes friends with.
This is another book where a sweet friendship develops into love but not without some bumps along the way, including a kidnapping! Not your typical courtship to say the least.
I loved Charlotte's strength of character to overcome her past, her son's disability and turn it all into something good.
Barrett Landry was a true gentleman and I loved how he eventually got around to wooing Charlotte and her son.
I found it ironic that Barrett eventually went back to doing what he left home to avoid. There's something about our roots that can call us back to the very depths of that is familiar and comfortable; and find real happiness in the process.
Waiting for Spring was a sweet story in which Amanda captures the Wyoming Territory for it's wealth, poverty and realities of being a cattle baron, shopkeeper and dressmaker. Not to mention the intriguing aspect of living among common criminals without even being aware.
This was what I consider a "candy" read. Easy, predictable and not very challenging. However, I liked the book, a candy read is the kind of book I like to read to relax without any heavy duty thinking and a way to spend a pleasurable time away from every day life and the stress that goes along with it.
"Available January 2013 at your favorite bookseller from Revell, a division of Baker Publishing Group."

Faith and Family Reviews received the following product in exchange for writing a review. While we consider it a privilege to receive products to review, our reviews are our honest opinion and thoughts of the product.
Share and Enjoy