The Lesson by Suzanne Woods Fisher is the third book in the Stoney Ridge Seasons series. I have now read them all! It is about the youngest daughter of Amos Lapp whose name is Mary Kate. Mary Kate has grown up a lot since the last book by about 5-7 years if I remember without looking it up. She is now nineteen. She is just as curious, klutzy, hilariously funny with the vivid imagination of a dreamer….she could be part my daughter! lol!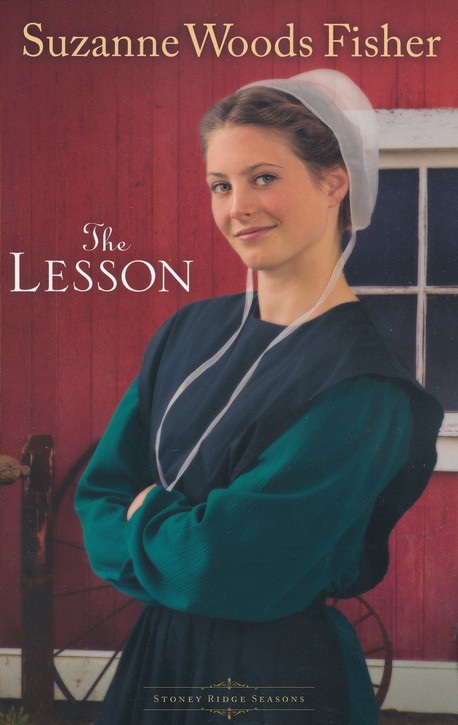 Mary Kate is learning to be content with where she's at in life. She's forced to take on a teaching job when she absolutely hated school when she attended, but that proves to be a good character building experience that leads to a more mature Mary Kate.
Unlike most Amish young women, Mary Kate was prone to getting into all kinds of scrapes from running into people with her red scooter to falsely accusing innocent people of murder and robbery!
In the first couple of pages of the book Mary Kate is convinced her purpose in life is to solve the death (or murder as she called it) of a local sheep farmer, but it leads her into all kinds of unwanted trouble.
I loved reading her journey to womanhood, contentment and yes, even love.
Many of you should know by now one of my favorite authors is Suzanne Woods Fisher. It's not just because she writes about the Amish, but because she entertains me with her characters antics, life and behavior. Her books are more than just romance novels, they are more about life and relationships. And yes her books are about the life and character of the Amish but as a Christian every time I read one of her books I cannot help but think the community the Amish exhibit should be a template, if you will, for what Christian churches everywhere should be like.
The Lesson gets two thumbs up from me!
"Available January 2013 at your favorite bookseller from Revell, a division of Baker Publishing Group."
iPad Giveaway
Suzanne is giving away 2 iPads!
Contest dates: Jan 3-20, 2013
Two winners will receive:
• A brand new iPad
• A $15 gift certificate to iTunes

Faith and Family Reviews received the following product in exchange for writing a review. While we consider it a privilege to receive products to review, our reviews are our honest opinion and thoughts of the product.
Share and Enjoy