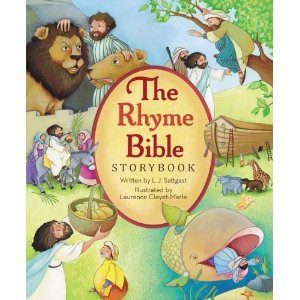 Reading time at home will be even more fun with the arrival of Linda Sattgast's freshly updated version of The Rhyme Bible Storybook!
Twelve years since the first edition captured parents' hearts, Sattgast teams with artist Laurence Cleyet-Merle to illuminate key passages from the Bible, making the most important lessons easy to understand.
Sattgast's rhyming text helps beginning readers remember each Bible story and comprehend their basic lessons. For instance, the story of David and Goliath becomes a read-aloud lyrical song similar to a nursery rhyme. In addition, the story of Jonah and the big fish detailed in the book is a delightful bedtime story.
With Cleyet-Merle's vivid illustrations, readers will experience 35 classic bible stories as they have never before been presented ~ with adorable pictured and Sattgast's rhyming text.
For any parent who wants to teach the Word of God, THE RHYMING BIBLE STORYBOOK is the perfect choice for engaging little ones. Together, Sattgast and Cleyet-Merle breathe new life into the traditional storybook Bible, making this new edition a keepsake for all ages.
Our Review:
I absolutely LOVE this book…perhaps it is because I LOVE songs and rhyming…but it is amazing! This book really hits home with our family because it is an easy way to learn classic bible stories in an easy and fun way! My children LOVE the verse and the illustrations. I cannot say enough about the author and illustrators who have brought the bible stories to life in this text! WONDERFUL!
I liked this book so much that I brought it to my Sunday school class…of 6th graders… yes I said it 6th graders. Now, do not get me wrong I am not saying that I taught out of a rhyming book to older children… BUT since we are studying the Old Testament… I used it as a teaching tool! I chose a few stories that we had studied and read the rhyming version aloud to the students. Then I asked my students to take their favorite story we have studied and try to make up their own rhyming version of a story or part of a story.  The older kids were very engaged in this activity! We had so much fun! I Loved being able to use this bible with my little ones at home and as a teaching tool in the classroom! Hats off to Zondervan and their talented authors!
This book is available through Zondervan. You can find more information about this and other Zondervan products at: http://zondervan.com/
You can purchase the book here: http://zondervan.com/9780310726029
The book is also available through Amazon and other retailers.
Here is the Amazon link: http://www.amazon.com/Rhyme-Bible-Storybook-Linda-Sattgast/dp/0310726026/ref=sr_1_2?ie=UTF8&qid=1357382333&sr=8-2&keywords=the+rhyme+storybook+bible
Faith and Family Reviews received the following product in exchange for writing a review. While we consider it a privilege to receive free products to review, our reviews are our honest opinion and thoughts of the product.
Share and Enjoy