Happy Thanksgiving from all of us here at Faith and Family Reviews!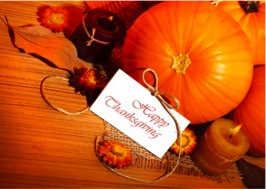 Hope you have a wonderful day with family and friends! Once again we are flying solo this holiday, opting to stay at home – no hosting even – and we are going to enjoy our own home grown meal of turkey, potatoes, butternut squash and pumpkin (in a pie of course!). Then other yummy things we are making or have bought to gobble down with the rest of our meal.
We are very grateful for many things but here are some at the top of our thankful list:
1. Jesus who died on the cross for our sins to give us eternal life in Heaven one day. He's the ultimate reason I live.
2. God's provision financially has been huge for our family over many years but this year has been amazing in a different way. I could say so much more but it would take a book. Seriously. Just when we think we are at the bottom of the barrel, He comes through.
3. Family. A husband to love and who loves me, and our children…other reasons I live. I can't imagine life without any of them.
May this truly be a season of thankfulness for all of us…
Giving thanks always and for everything to God the Father in the name of our Lord Jesus Christ,
Ephesians 5:20 ESV
Share and Enjoy