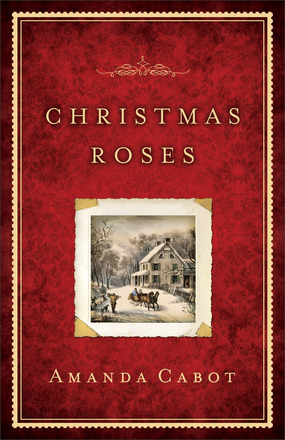 I went on a bit of a reading spree this weekend and it hindered me from getting the rest of my garlic planted, as did another tooth ache – same one – but thankfully no swelling this time and feels find today. I've enjoyed reading 3-4 of Amanda Cabot's books. Probably because most of her books hold a redemptive grace story, lined with the need for forgiveness. This one stirred my emotions (nothing new there!) and I loved the rose aspect of it. Thanks to my husband roses are my favorite flower.
Set in 1882, Christmas Roses is a pleasant story and one I'd read again at Christmas time, just for the mushy story. Every now and then I get in the mood for one of these and this weekend was one of those times.
While the romantic part of the story line was predictable, it's an endearing Christmas story sharing the joys of redemptive grace, healing, forgiveness and love. Something we all need to be reminded of from time to time.
I liked how gifts of service were emphasized in the story because I think it is a way we can show our spouses or love interest we love them, but not every couple will be the same so there needs to be a balance, as well as discovering what our loved one appreciates the most.
As a side note, I was short on time and asked my daughter to read this book first (I ended up reading it at the last minute and then found out it wasn't due until the end of the week…it's done early for a change!) and while she liked it she isn't crazy for mushy romance novels. She agreed that Christmas Roses was predictable and she knew who was going to end up with who.
A thumbs up from me, though I am itching for another great mystery/story of intrigue!

"Available September 2012 at your favorite bookseller from Revell, a division of Baker Publishing Group."

Faith and Family Reviews received the following product in exchange for writing a review. While we consider it a privilege to receive products to review, our reviews are our honest opinion and thoughts of the product.
Share and Enjoy