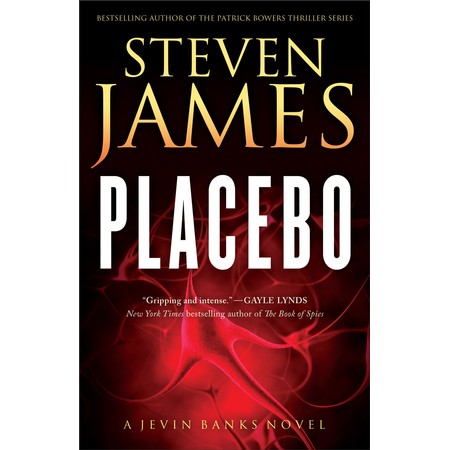 Placebo by Steven James was not your normal book from Revell Books. Placebo is a mystery thriller. Steven Banks has also written The Patrick Bowers Thriller Series which is I heard about for the first time when I opened the cover of Placebo to start reading. After reading Placebo I have to say that I am intrigued enough to look into The Patrick Bowers Thriller Series to see what they are all about.
Placebo is basically about a conspiracy that Jevin Banks stumbles across while investigating a neurological research program. The more questions he asks the deeper he finds himself entangled in a conspiracy involving the government and one of the largest pharmaceutical companies. He encounters an assassin who nearly kills him, his assistant and a doctor they were talking to about the research program.
I liked this book because it kept me riveted to the pages from about midway through to the end. The first part of the book took me a little while to get into but I was glad it picked up. I also liked that there is no bad language, I wasn't sure how it was going to be when I began the book.
What I didn't like about the book is it didn't seem overtly Christian, don't get me wrong there's nothing wrong with some non-Christian books or not mentioning God every other page, but this one seemed to describe certain characters and situations in a totally non-Christian way. For example, as a woman, I don't care how seductive a woman looks, do you see what I mean? And I realize the characters are not Christians, but I don't find that kind of stuff necessary. It's fluff. I was more interested in getting to the bottom of Jevin's investigation and the results of the conspiracy, not the leggy or voluptuous secretary. However, I guess those descriptions did generate some strong feelings about certain characters and that means the author did his job in drawing me into the "Placebo world" and all involved.
No matter the kind of book I read, I enjoy a good, clean, entertaining…or in this case thrilling…story line and because Placebo meets those criteria I feel I can still give it a thumbs up.
"Available November 2012 at your favorite bookseller from Revell, a division of Baker Publishing Group."

Faith and Family Reviews received the following product in exchange for writing a review. While we consider it a privilege to receive products to review, our reviews are our honest opinion and thoughts of the product.
Share and Enjoy