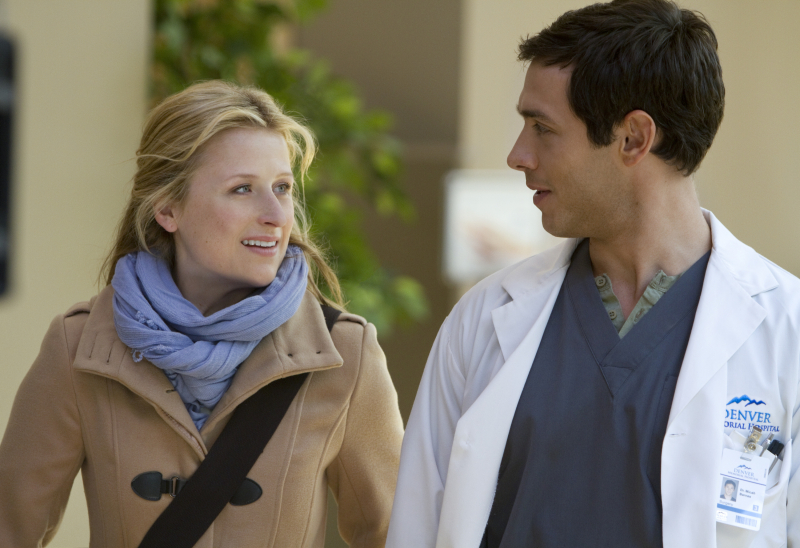 Emily Owens MD is a new show premiering on October 16th. It is about a new doctor, Emily Owens, acclimating to a new hospital where her "idol surgeon" works. The premise of the show is that Emily now feels grown-up and feels she can finally put her nerdy teenie boppy ways behind her. Little does she realize that the hospital, Denver Memorial Hospital, is just a grown up version of high school.
Emily Owens is played by Mamie Gummer, of "The Good Wife", and is also the daughter of Meryl Streep and Don Gummer.
I have to admit that I really enjoyed the highly entertaining and emotional evoking pilot episode I recently had the opportunity to review. I'd rate the language as PG-13+, which is disappointing but I get that I am a rare bird when it comes to stuff like that. Due to the adult content I won't be allowing my younger children to watch it, however, my oldest watched it with me and really liked Emily Owens too.
But don't take our word for it watch the promo:
Funny, eh? I laughed and cried throughout the show. I loved the sensitivity of Emily's bedside manner as a doctor, but developed a very strong dislike for a couple of characters who seemed bent on making life difficult for Emily. See what I mean about the show appealing to the emotions?
Be sure to check it out for yourself on Tuesday, October 16 from 9:00-10:00 PM, ET/PT on the CW Television Network.
The NY Times wrote up a nice piece about this new TV show here: http://www.nytimes.com/2012/09/09/arts/television/the-new-season-mamie-gummer-of-emily-owens-md.html?_r=1
To learn more about the show visit the following links:
Emily Owens MD: About the Show
Emily Owens MD: Official Website: http://www.cwtv.com/shows/emily-owens-md
Emily Owens MD on Facebook: https://www.facebook.com/EmilyOwensMD
Emily Owens MD on Twitter: http://www.cwtv.com/thecw/twitter#eomd

Faith and Family Reviews received a promo copy of the pilot show in exchange for writing a review. While we consider it a privilege to receive products to review, our reviews are our honest opinion and thoughts of the product.
Share and Enjoy