This is a post that I have been meaning to write since May when I signed up but I kept bumping it for everything else on my plate since that time. Now less than a month away, I need to get it written. I simply cannot believe how fast time has flown. Back in May I went to Brandcation (#3) Bloggers Gone Coastal in Pensacola, Florida, it was my first blogger conference-type-event. I loved meeting bloggers I interact with on a daily basis on MomDot. They are wonderful! I had a great time. Though I missed my family, I would be lying if I said it wasn't refreshing to get away.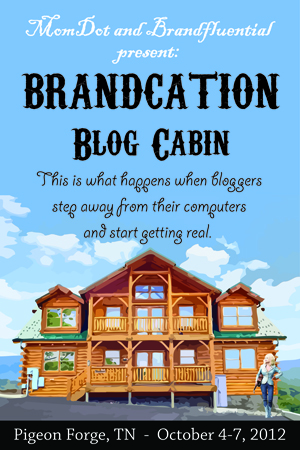 That's why when Brandcation (#4) Blog Cabin was announced in late May, I really wanted to go and was very surprised my husband quickly agreed I should. I was like, "Really?" I never expected him to say yes so fast because he really missed me while I was at Brandcation Bloggers Gone Coastal. My older girls called him "pathetic" and said he "moped" around the house carrying and looking at his phone for my next text or call. I thought it was pretty cute actually.

He loves me, he loves me! He missed me, he missed me! So juvenille, lol! (If you find this edited later, you'll know my husband did not approve it!

) I really thought I'd have to do some cajoling to convince him it was a good thing for me. I was wrong. He's a good hubby and knows I work hard.
About Brandcation
Brandcation is not like other blogging conferences. It is small, intimate and full of fun activities for bloggers to get to know each other while supporting sponsored brands. It is the ultimate networking event! Relationships is what Brandcation is all about. To learn more about the past three Brandcations go here. As a side note, Brandcation is presented by MomDot and Brandfluential. Thanks Trisha and Kim (plus Blondie and Lynsey too!)
Brandcation Blog Cabin is being hosted in Pigeon Forge, Tennessee and we will be visiting some area attractions. Those attractions include:
Cabin Fever Vacations (accommodations)
Dollywood
Dixie Stampede show
Country Tonight
Lumberjack Feud
Titanic Museum
Climb Works for Ziplining
Wax museum
Flashy Blinky Lights
We will even be having an 80's party. I was a teen in the 80's so that oughta be fun to try and find something to wear. I have looked but I didn't like anything I saw, but then again while looking I was trying to find something that I could and would wear today…
Once again I am nervous, even though I have met a number of the bloggers attending, but really looking forward to this trip. I love to travel and I have never been to Pigeon Forge, Tennessee. Here I come Brandcation Blog Cabin….

Share and Enjoy