I have been nursing or pregnant for the past 16 years. I have tried very few nursing wear products considering the length of time I have spent breastfeeding. The products have consisted of nursing bras, a camisole/tank top and nightie. I found most nursing tops I tried didn't fit me right, were far to long for my short frame and left me feeling quite uncomfortable. As I have stated before, I dress for comfort. It has to feel good to make me look good.
That's why I was excited to discover Ameda has come out with a new Intimates Apparel for Nursing Moms collection.

Intimates Nursing Camisole. Shown below.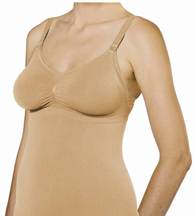 Intimates Nursing Bra. Also shown below.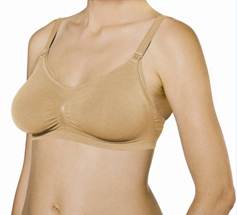 Ameda has created these two products for comfort and there are other interesting features to consider as well:
· Seamless cup, no underwire
· Microfiber fabric
· Fabric is tested for harmful substances according to Oeko-Tex Standard
· It's unique side panels adapt to the ever "evolving" shape of the mother
· The easy release clasp makes breastfeeding in public a breeze
· Comes in sizes A-J cups
· Machine washable
Both retail for $39.99 and are available at AmedaOnline.com, AmedaBaby and AmedaDirect.com.
My Review
When I put on this bra, my initial response was, "Ahhhh, it's so comfortable!" The material is soft and it washes up nicely. It comes in five different sizes. I did find that it may run a little smaller than the size chart indicates.
It is very easy to use the clasp system, but I found the fabric elastic enough that I can even move the bra to the side in order to nurse.
The fabric is very lightweight but don't think you won't stop sweating simply because of the type of material it's made of because you probably will. I know I did.
I've been looking for a new nursing bra since my old ones are no longer made and they are becoming a little raggy looking. That's the thing, I have probably replaced my nursing bras every 3-4 years and by the time I need new ones my old ones are extinct. It's really a pet peeve of mine to find a product I really like only to have it off the market never to be found again when I want it again. Very sad state of affairs for this mama.
I really like the Ameda Intimates Nursing bra and am adding it to my new favorites. It gets two thumbs up for me!

Faith and Family Reviews received the following product in exchange for writing a review. While we consider it a privilege to receive products to review, our reviews are our honest opinion and thoughts of the product.
Share and Enjoy