The first several years of being a mom I was pretty uptight and stressed – a lot more than I am now. There were (and still are) so many things I didn't know (still don't know). However, time, experience and maturity has taught me what is important:
1. Prayer. I pray all the time for my children. After all, God is the one who made them and ultimately knows them.
2. Love. Kids need lots of love and it is a constant work in progress to show them I love them on a daily basis amidst the good, bad and ugly. Each of them enjoy what is often referred as "love languages". When they know they are loved they thrive.
3. Doing My Best. If I am truly doing my best, then the rest is up to God. As finite humans there is always room for improvement but if my husband and I are jointly seeking what is best for our family and individual children, then things should be ok. Our children will make choices, but any bad or wrong choices won't be our fault if we have taught them right from wrong – after all our children are human too with minds of their own. Some just have to learn the hard way, unfortunately, and I cannot beat myself up about it.
I still tend to worry about certain things, think that's part of being a parent, but overall I have loosened up quite a bit. As a mom of eight, I do not have time to let my Type A personality rule me like it use to!
I know all of you moms with 2-3 children all think I am nuts for having as many children as I do, but in many ways having 2-3 is as much work as having my 8 now. I know you don't believe me but it's true. When I had three children 3 and under or even five 6 and under, I was doing everything. Everything. My oldest was just starting to be a helper girl. Now I don't do everything because I have built in helpers, however, I do work for income within our home and without the children's help we would probably never eat or have clean clothes! Not that they do it perfectly by any means because often I find myself finishing up what they didn't.
When I was a young mom (making myself sound old now! ;)) I also remember reading a lot of books. Books for encouragement, books about parenting, books about children. I still have many of my favorites and yes, they are still an encouragement to me. I hope one day my daughters will benefit from them.
Don't Sweat the Small Stuff for Moms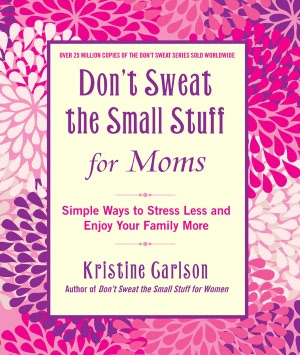 Kristine Carlson has written a book titled, Don't Sweat the Small Stuff for Moms, that has short chapters for busy moms. In it she shares "simple ways to stress less and enjoy your family more." I think new and young moms alike would benefit from this book. She includes many reminders like:
– There's no such thing as a "perfect" mom
– Practice breathing before you speak
– Gratitude is a family practice, and begins with you
– When all else fails, laugh
– Celebrate other mothers
– Guilt-free working mom
Plus many more in her little 100 chapter book.
You, too, can connect with Kristine and other Don't Sweat Moms via:
Facebook ~ Facebook.com/DontSweatMoms
Twitter ~ Twitter.com/DontSweatMoms
YouTube ~ YouTube.com/user/dontsweatmoms
Pinterest ~ Pinterest.com/dontsweatmoms
Join the Twitter conversation using the hashtag #DontSweatMoms.

Don't Sweat the Small Stuff for Moms may be purchased at any Amazon.com or Barnes and Nobles

Faith and Family Reviews received the following product in exchange for writing a review. While we consider it a privilege to receive free products to review, our reviews are our honest opinion and thoughts of the product.
Share and Enjoy