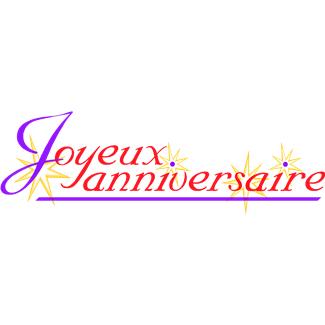 Ever since I was a little girl taking fourth grade French, I have been interested in languages. I took French from 4th-12th grade and even tried to do a correspondence course on top of my college work – I went to an itty bitty school that did not offer languages. After all that, I am still not fluent in French. I was a good student, my school's program just was not set up to allow for students to become fluent speakers of the language.

That's the sad part. I was always told that total immersion was the best way to learn a new language. In that line of thought our tenth grade class went on a Quebec trip to "learn" French. Imagine my disappointment (and others) while trying to speak the language to the locals they spoke back in English! That's right they could tell we were not French speaking and probably didn't want us butchering their lovely language. It defeated the purpose of our whole trip though. I did have a friend who went on what was called a French Immersion trip, which was longer than the week we took to go to Quebec, as I believe it was a 6-week long course. She was not suppose to speak English at all during that whole time so she learned a lot more French that way.
The plus side to all of that is that I can pick out words in print or understand some of what is being said when people are speaking French, if they are not speaking too rapidly. And I do remember enough that I can toss out a phrase or question and have my family look at me blankly because they have no idea what I just said. My husband being the goof ball that he is will usually come back with, "Donde es la bano?" ("Where is the bathroom?") in Spanish because that's about the only thing he knows.

Now that I have children, I really try to encourage their interests. My oldest daughter has long been interested in learning Spanish. We have tried kids vocabulary books, a small little Spanish program on cassette and asking our Spanish speaking neighbors how to say certain words. But nothing has been consistent or easy, as those of you who have studied another language know. It takes a lot of discipline and a real interest to learn a new language. So much of what we have done has been things that were done when my daughter was younger, as I have never wanted to spend a lot of money on Rosetta Stone type programs in case they sat and collected dust. "O me of little faith" I know, but I've been there and had that happen.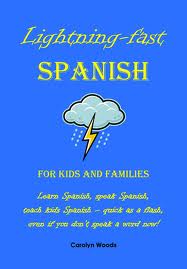 More recently though when my daughters expressed an interest in another Spanish learning resource, Lightning Fast Spanish, I was willing to give it a try. As the title denotes, it sets children and adults up for success to learn every day words in it's easy to follow activities. My daughters have only looked at it, as have I. We have not been consistently trying to work at memorizing any words or phrases.
Each lesson is broken down into:
Concept
Preparation
Conversation
Vocabulary
The lessons cover topics like: different pieces of clothing, colors names of places or places to go timing of events, getting dressed, brushing hair, packing lunch, comparison words, toys, food, items you see walking around the block, games sports, playground equipment, body parts, school activities, dinner time vocabulary, household items etc. are covered in these 15-lesson book. Plus there is 20 pages of fun activities and games for additional practice – bingo, scavenger hunts, the Hokey Pokey (remember doing that song in Music class? I do!) twister and more.
What is great about this 63-page book is that each of the activities and lessons are stand alone so you can start anywhere. Other advantages is that the book is short, as are the lessons and it's every easy to understand. Best of all it is very budget friendly – $14.95 for a paperback version or $9.99 for the ebook. It may be purchased on Amazon.

Faith and Family Reviews received the following product in exchange for writing a review. While we consider it a privilege to receive free products to review, our reviews are our honest opinion and thoughts of the product.
Share and Enjoy