I have to finish telling you all about the rest of my Brandcation trip now that my house is quiet. My last post was about our trip to Adventures Unlimited, which we did during the day on Saturday, May 5. Two weeks ago today actually. Then after a dinner of subs we went stargazing. I don't know what I expected but it was better than I anticipated and I thoroughly missed having my family with me because they would have loved it. Especially my husband and my second oldest daughter as she studies astronomy for fun and often coaxes us outside to see what she sees, but I don't always see it that's the problem!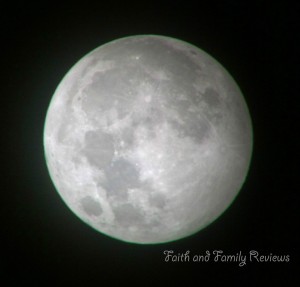 Dewey and his friends had their telescopes and binoculars all set up in stations for those of us attending, which not only included our group but a few others as well. We were there to see what is known as the Super Moon. At the first station I went to Dewey actually had an accessory that enabled us to attach our iPhones to the telescope and take pictures and video It was so neat. I was able to text video and photos to my husband so they could share in the experience in real time, but of course from home. Dewey even put a screen on the telescope so he could make the moon look red, but I cannot remember why.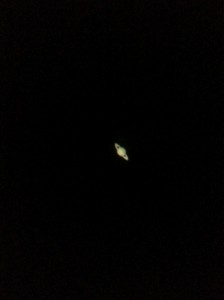 I believe the next station was of Venus and the clouds were covering it at the time so while I tried to see it, it was too late.

Then at the next one I was able to use these huge binoculars to look at the moon, I believe. See already starting to forget little details like that! Getting to look at Saturn was very cool and I so wished I could have got a picture of that but Amy from Grinning Cheek to Cheek did and offered to share.
The last telescope was huge and it was powered by the man's truck battery, which I didn't know they could do but it doesn't surprise me as much as it struck me funny in an ironic sense that it could be done.
The beach was beautiful that night with a gentle breeze and full moon. I wished my husband was there for a romantic walk on the beach, but alas I enjoyed seeing the Gulf side of Portofino Island with Sheri from Kidsumers, Johanna from Mama Chocolate, Lisa from Between the Kids, Amy and a few others that I am probably forgetting were also on the boardwalk with us. I actually did go down to the water very briefly as it is said sharks feed at night and because of so many stories of sharks being close to shore in Florida and I did not want to be a shark snack. Therefore, I quickly felt the water because I wanted to see how cold it was at that time of night – it was warm! Much different than what I am use to coming from living on the Atlantic side for more than half my life, that's for sure!
Many thanks goes out to Dewey and Escambia Amateur Astronomers Association for sharing their knowledge and time with us! It was amazing. It has motivated me to find local astronomers here to get help learning how to use a telescope that was given to us – thanks to one of Dewey's friends for suggesting I do that! Oh and by the way Dewey and his friends do this on their own time and for FREE! How awesome is that?
Share and Enjoy