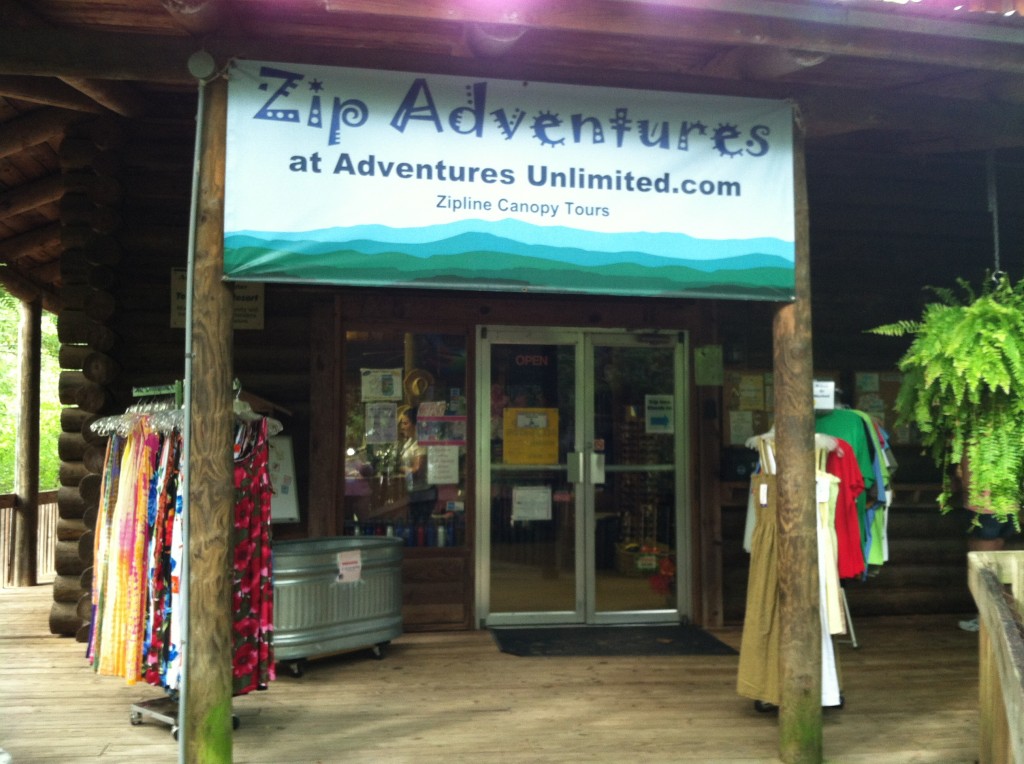 My photo taken from my iPhone.
On Saturday at Brandcation we went to Adventures Unlimited in Milton, Florida. They have been in business for 36 years! They own 88 acres of beautiful land, with even an old school house that was renovated into overnight accommodations. They bought it at an auction, moved it to their property and fixed it up! Would have loved to have seen that! And as their name denotes: they have Adventures Unlimited. A relatively new activity, which they added two years ago, is fast becoming one of their most popular activities – Zip lining!
This was our zip line group. Everyone from my condo, plus Joy from Joyful Musings: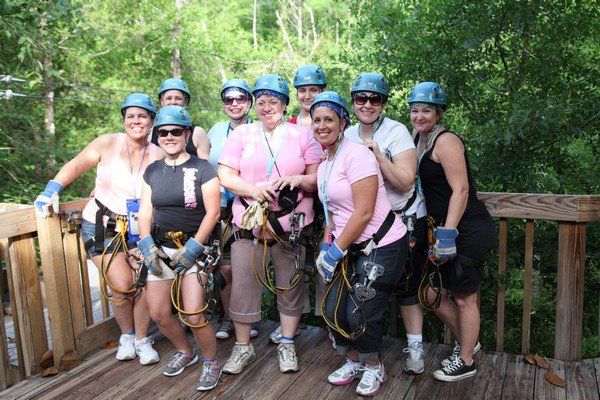 We spent the whole day there with Adventures Unlimited providing us a box lunch – yummy! The morning we spent zip lining. I admit I am not very adventurous and was really hesitant about even going to Brandcation because of zip lining, however, I went on the practice line and nearly took my arms out of their sockets due to panicking

Seriously, one of the guides warned me if I did what I did by grabbing the line he'd have to ground me. Not sure if that was said just to discourage me from panicking again or if he was serious. By the way the guides were both great. Courteous, ready to assist with gear etc.
The problem with my zipping is that there is a technique to braking on the line and let's just say I did not have it down after one trip down the practice line. Even though my legs shook and my tummy churned, I walked to the first big line. Let's just say it was high…
This was the first zip line "tower":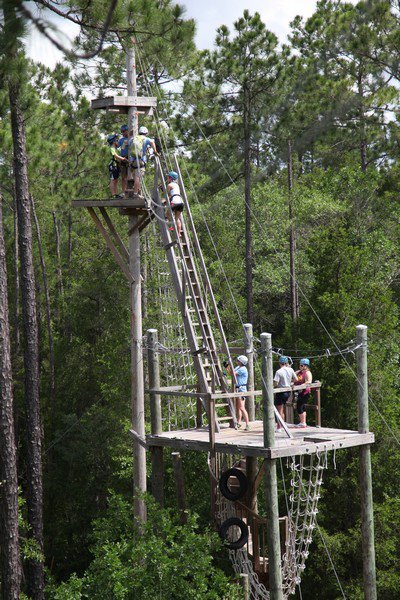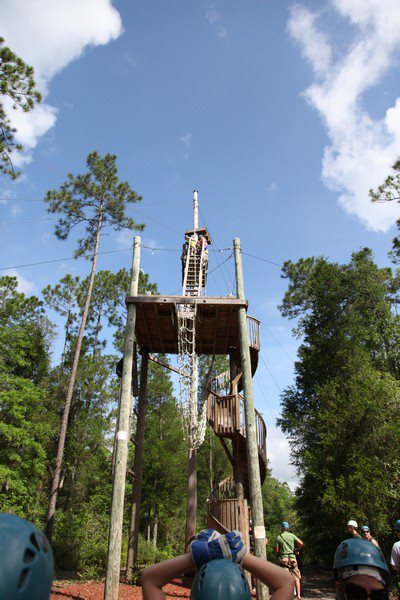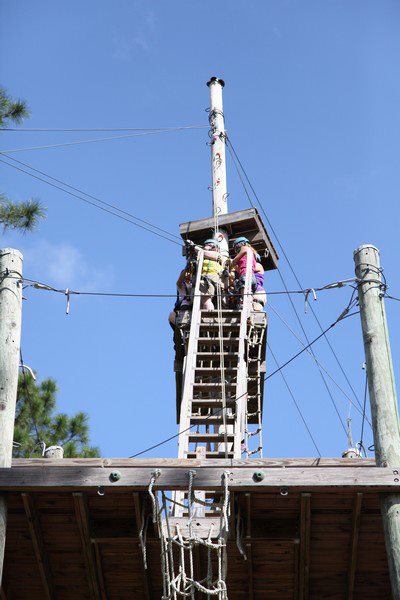 Let's just say that when Sheila made her way back down the spiral stairway, I did too. If I nearly jerked my arm out of joint on the practice run, what would I do on the larger runs? Nah-uh, not for me. If I could do anything again, it would be the practice run because seriously it wasn't too high and maybe I could eventually learn how to brake with my hand, right? Thankfully, the owner was very understanding, saying it wasn't for everyone. He offered to take Sheila and I down to the river to see our group when they came in from the nine zip lines they were doing that day. Sheila declined but I went and it was so peaceful. I could hear the lines "zipping" and the surroundings were beautiful. I just loved being out in God's wonderful creation. I took pictures of the river and got video footage of our whole group zipping on the last line.

This is of Denise, the first one to zip this line.
The majority of ladies thoroughly enjoyed the zip lining, even those who had a fear of heights. They were the ones who felt empowered because they had overcame their fears. The last 900 ft line was the best from what I heard and many wanted to do that one again and again!
The afternoon we spent on the river tubing 4 miles. It was so much fun! I loved chatting with the ladies, laughing at myself as I flopped on and off my tube and racing with Paula and Maryann – they were the "Queens" of the river!

We maneuvered stumps, shallow water, an island and rocks – more adventures and sore shoulders! But I loved it because I love nature and the water, which was a refreshing 70 degrees.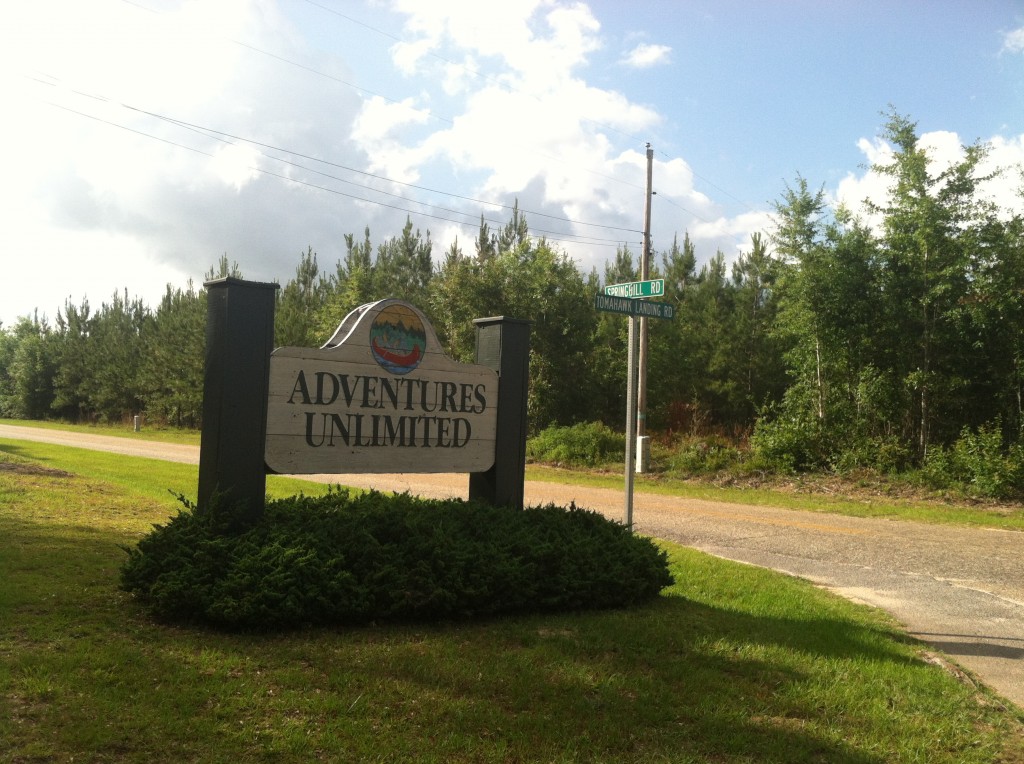 My photo taken with my iPhone.
It truly was a wonderful day and it was awesome of Adventures Unlimited to sponsor our day! Feel free to connect with them at their website, Facebook or Twitter.
Share and Enjoy